From sky-painting firework spectacles to sizzling BBQs and lip-smacking patriotic-themed drinks, the heart of Texas beats in rhythm with the spirit of freedom. 🍔🍹 And oh, speaking of drinks, our stores are stocked to the brim with an array of beers, wines, spirits, and mixers – everything you need to raise a toast to our great nation!
So, dust off those boots 🤠👢 and join us at Zipps Liquor, your friendly neighborhood liquor store, as we share four invigorating ways to celebrate the 🇺🇸 4th of July in true Texas style.
At Zipps Liquor, we are all set to add that extra sparkle to your celebrations with our huge stores full of beer, wine, spirits, and mixers. Whether you're looking for local favorites or international brands, we have got you covered. So, let's embark on this exciting journey of festive celebration together, shall we?
Find Thrilling Texas 4th of July Events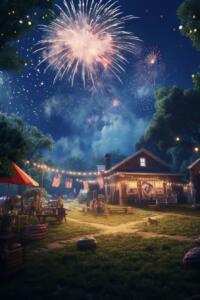 Hold on to your cowboy hats, folks, because finding thrilling Texas 4th of July events is as easy as pie! 🥧🎇 If you're scouring the web for "4th of July events near me," take a breather, partner. The Lone Star State's Independence Day shindigs are in a league of their own, and there's bound to be something happening right around the corner to have you belting out the Star-Spangled Banner with gusto.
From vibrant parades adorned with red, white, and blue to sizzling BBQ cook-offs and stunning firework displays that light up the Texas sky, the options are aplenty. And don't forget to swing by your local liquor store to stock up on your favorite beverages. Our friendly staff is ready to help you choose the perfect mix of beers, wines, and spirits to keep the patriotic toasts flowing all night long! 🍻🇺🇸
Willie Nelson's 4th of July Picnic
Organized by country music icon Willie Nelson, the "Willie Nelson's 4th of July Picnic" brings together a remarkable lineup of artists for a day of live music and celebration. The picnic takes place at various venues across Texas, featuring performances by acclaimed musicians and bands representing a range of genres, including country, rock, folk, and blues. Attendees can enjoy great music, indulge in delicious food and beverages, and immerse themselves in the vibrant atmosphere of this Texas-sized picnic.
Austin Symphony H-E-B Concert & Fireworks
The "Austin Symphony H-E-B Concert & Fireworks" is a celebration that takes place every 4th of July in Austin Texas. It combines a concert by the Austin Symphony Orchestra with a spectacular fireworks display. Families and friends gather to enjoy the live symphony performance, which typically includes patriotic and popular compositions. As the concert concludes, a stunning fireworks show begins, lighting up the Lady Bird Lake night sky and creating a memorable experience for all.
Explore Historical Sites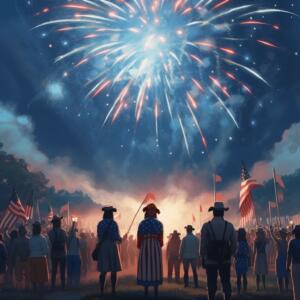 Lasso up your sense of adventure, because first on our star-spangled list is a journey through time! 🕰️ Texas, our beloved land of cowboys and freedom fighters, is steeped in history that goes hand in hand with America's march toward independence. Visiting historical sites on the 4th of July is like stepping into a time machine – not only will it enlighten you with captivating stories, but it also evokes a deep sense of gratitude for the indomitable spirit and sacrifice of our founding fathers. 🇺🇸
So, folks, how about taking a stroll through the Alamo or moseying around the San Jacinto Battleground? These sites and many more are treasure troves, waiting to share their tales. And you know what? As you walk the grounds where history was made, maybe grab a cold beverage from Zipps Liquor to toast in honor of those who laid the foundation of the freedom we cherish today. Raise your glasses high; this one's for them!
Alamo in San Antonio
A visit to the Alamo in San Antonio is a must for history enthusiasts. This iconic mission-turned-fortress holds great significance in Texas' fight for independence. It was at the Alamo where a small group of Texan defenders valiantly resisted the Mexican army during the famous Battle of the Alamo in 1836.
Exploring the Alamo allows visitors to step back in time and witness the courage and determination of those who fought for Texas' freedom. The Alamo offers informative exhibits, guided tours, and interactive displays that bring the story of the battle to life, making it a captivating experience for everyone.
San Jacinto Battleground State Historic Site
Another historical site that is worth visiting is the San Jacinto Battleground State Historic Site near Houston. This site commemorates the decisive Battle of San Jacinto, where Texan troops, under the command of General Sam Houston, achieved a stunning victory against the Mexican army. The battle lasted only 18 minutes but had a profound impact on Texas' struggle for independence.
At the San Jacinto Battleground, visitors can explore the grounds, view the towering San Jacinto Monument, and visit the museum to learn more about this significant event in Texas history. The site also offers a replica of the famous ship, the USS Texas, which participated in both World Wars and is now open for public tours.
Mix and Sip Flavorful 4th of July Drinks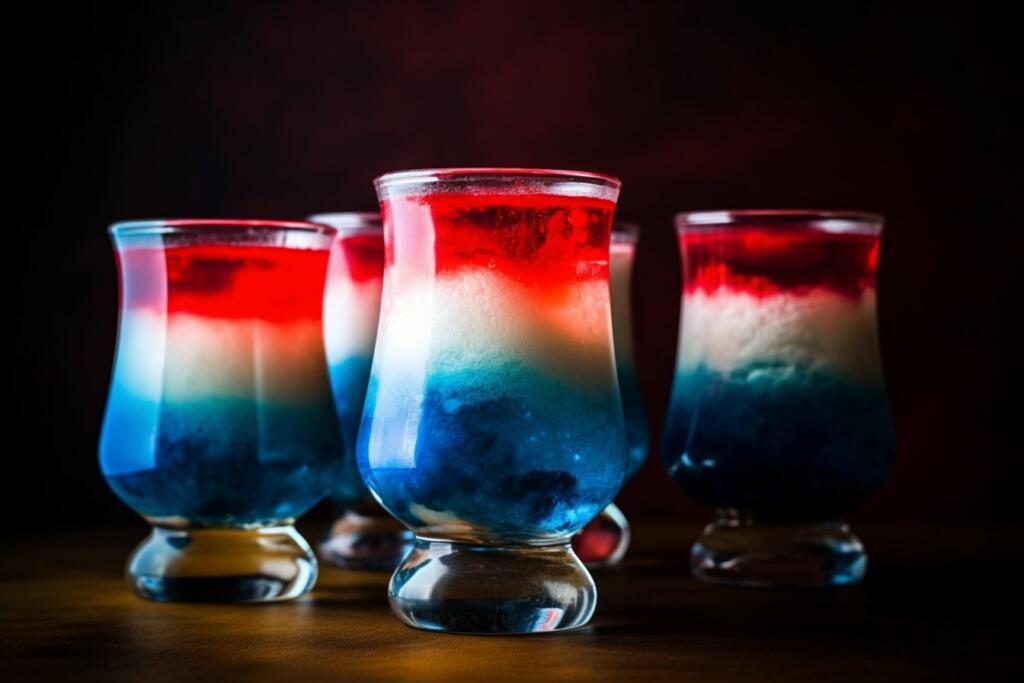 4th of July in Texas isn't just about fireworks and barbecues – it's about indulging in some good ol' spirited drinks too! At Zipps Liquor, we've got you covered with all the ingredients to mix up a storm of flavorful patriotic-themed cocktails. Imagine sippin' on a red, white, and blue layered drink as the fireworks light up the Texas sky – that's how we do Independence Day, folks!
Let's talk refreshment: think a Lone Star Lemonade with a twist of Texas bourbon or a Berry American Punch brimming with the festive colors of the flag. And let's not forget our brave tequila, ready to feature in a dazzling Firecracker Margarita! These concoctions are not just drinks; they're a celebration in a glass, and they're guaranteed to have your fellow Texans singing the Star-Spangled Banner in harmony. So mosey on down to your nearest Zipps Liquor and let us help you pick out the perfect spirits and mixers to make this 4th of July the toast of Texas! 🥂🎆
Lone Star Lemonade
What better way to cool off on a hot Texas day than with a tall glass of Lone Star Lemonade? This thirst-quenching beverage combines the classic flavors of lemonade with a patriotic twist. To make it extra special, add a splash of blue curaçao liqueur for a vibrant blue hue. Garnish with a few fresh blueberries and a festive red and white striped paper straw to complete the patriotic look.
Texas Tea
Put a Texan twist on the classic Long Island Iced Tea with a patriotic version known as Texas Tea. This cocktail is a potent blend of vodka, rum, tequila, gin, triple sec, and a splash of cola. To give it a festive touch, add a dash of grenadine to create the red hue, and garnish with a slice of lemon or a cherry. Texas Tea is a bold and flavorful drink that packs a punch, just like the Lone Star State.
Firecracker Margarita
Spice up your 4th of July celebrations with a Firecracker Margarita that combines the flavors of tequila, lime, and a hint of spice. Start by rimming your glass with red sugar crystals for a touch of patriotic flair. In a shaker, mix tequila, lime juice, triple sec, and a splash of cranberry juice for the red color. Add a dash of jalapeno-infused simple syrup for a fiery kick. Shake it well with ice, strain it into your rimmed glass, and garnish with a slice of lime.
Visit a Theme Park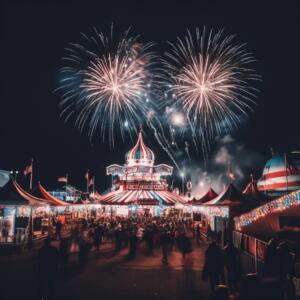 Hold on to your hats, y'all, because visiting a theme park is one rip-roaring way to celebrate Independence Day in Texas! 🎢 The Lone Star State is chock-full of thrilling amusement parks that pull out all the stops to ensure folks have an unforgettable time during this patriotic holiday. From gravity-defying roller coasters to splash-tastic water rides, these parks have got it all. And let's not forget the special fireworks shows that paint the night sky with an explosion of colors! 🎆
Now, before you head out, make sure to swing by your local Zipps Liquor store to stock up on refreshments for the road. We've got a diverse selection of drinks and snacks that'll keep the energy levels soaring as you embark on this exhilarating adventure. After a day of screams, laughs, and memories made, round it off with a toast to freedom and friendship with some chilled beverages from Zipps.
Six Flags Over Texas
Known for its adrenaline-pumping rides and family-friendly attractions, Six Flags Over Texas offers a special 4th of July celebration that promises non-stop entertainment. Experience heart-pounding roller coasters, take a spin on thrilling rides, and cool off at the water attractions.
The park also features live shows and performances that add an extra dose of entertainment to your day. As the sun sets, get ready for a mesmerizing fireworks display that lights up the night sky in a dazzling array of colors. The combination of exhilarating rides, live entertainment, and a fireworks extravaganza creates an unforgettable experience for visitors of all ages.
Schlitterbahn Waterpark
Located in New Braunfels, the Schlitterbahn Waterpark is the perfect destination for beating the summer heat while enjoying the 4th of July festivities. With its thrilling water slides, lazy rivers, and wave pools, this theme park offers a refreshing and fun-filled experience for families and friends. Throughout the day, you can enjoy live shows and entertainment, adding to the festive atmosphere. Then, as the night sky darkens, get ready for an awe-inspiring fireworks display that reflects off the water and creates a magical ambiance.
Celebrate the 🇺🇸 4th of July in Texas with Zipps Liquor!
As a liquor store chain in Texas, we understand how important it is to enjoy Independence Day in style. Whether you're attending exhilarating events or hosting your own backyard barbecue, we've got you covered with an incredible range of 4th of July drinks.
With our convenient online platform, you have the freedom to choose between pickup and delivery options. If you prefer the ease of having your drinks brought straight to your doorstep, our delivery service is perfect for you. On the other hand, if you enjoy the experience of browsing our stores and want your drinks right away, feel free to visit your nearby Zipps Liquor Store.
Shop online or visit your nearby liquor store to make this Independence Day a memorable one. Cheers to Texas and cheers to celebrating in style!