When it comes to hosting a Texan party, nothing says "yeehaw" better than a good ol' fashioned cocktail. As the saying goes, everything is better in Texas, and that includes the cocktails. With the abundance of flavors and drinks available, it can be overwhelming trying to narrow down what to serve at your next shindig. Fear not, fellow Texans, as we have gathered some of the best Texas-inspired cocktails that are sure to please any crowd. From sweet to savory, spicy to smoky, these five drinks are as iconic as the state we call home. So, grab your cowboy hat and get ready to indulge in these five flavorful concoctions!
Top Beverage Choices To Elevate Texas Summer Parties
In the heart of the summer, as the Texas sun blazes and the BBQ grills sizzle, nothing compliments a get-together quite like a refreshing drink. This season, embrace the Lone Star State spirit by offering your guests a taste of Texas with these sensational cocktails. Whether you're throwing a backyard BBQ, a pool party, or celebrating a special occasion, these Texan-inspired drinks are the ultimate crowd-pleasers.
1 – Classic Texan Margarita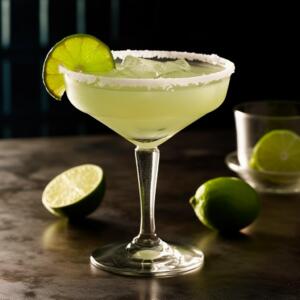 A list of Texan drinks wouldn't be complete without the classic Margarita. In Texas, Margaritas are almost considered an art form. To make a true Texan Margarita, you'll need
Shake the ingredients with ice, then strain into a glass with a salted rim. For a bit of a twist, you can add a splash of agave syrup or fresh orange juice. Serve it on the rocks or blended for a frozen treat. Garnish with a lime wheel or wedge.
Pair your Margarita with some delicious Tex-Mex dishes like nachos or fajitas, and you're all set for a perfect Texas-style party.
2 – Texas Tea Cocktail
First on the list of the best Texas cocktails for your next party is the Texas Tea Cocktail. It's a twist on the classic Long Island Iced Tea, a potent drink that packs a punch and is beloved for its refreshing taste! Some say this Texas cocktail originated on Tennessee's Long Island in the 1920s, while others say it's from New York in the 1970s. Wherever it really came from, it's not a Texas Tea Cocktail without the following: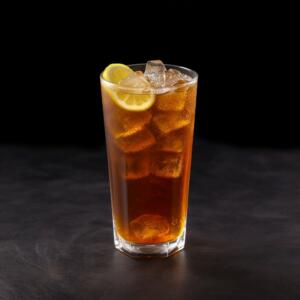 1/2 ounce of Blanco tequila
1/2 ounce of gin
1/2 ounce of light rum
1/2 ounce of vodka
1/2 ounce of triple sec
1-ounce sour mix
2-ounce cola
Lemon wedge
Combine vodka, rum, tequila, gin, triple sec, bourbon whiskey, and sour mix in a glass of ice. Top it off with cola and garnish with a lemon wedge. Stir gently and sip away! You need this at your next summer party because it's a harmonious blend of flavors that will transport you to the heart of Texas. Just remember only to pour a total of three ounces! If you go over that, you won't feel your best the next morning…
3 – Lone Star Lemonade
As the sun beats down and the air is filled with the smell of barbecue, there's nothing like a thirst-quenching drink to add zest to your Texas summer party. Enter Lone Star Lemonade – a cocktail that epitomizes the spirit of Texas with its refreshing blend of ingredients. Here's a closer look at this delightful drink.
Ingredients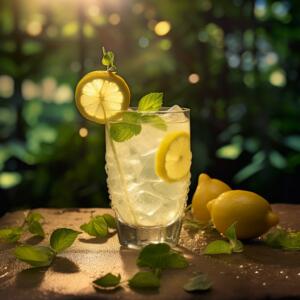 2 oz Tito's Handmade Vodka (made in Austin, Texas)
1 oz freshly squeezed lemon juice
1/2 oz honey syrup (equal parts honey and hot water, stir until honey is dissolved)
Club soda, to top
Ice cubes
Fresh mint sprigs for garnish
Lemon slices for garnish
Preparation
Start by making the honey syrup: mix equal parts of honey and hot water. Stir until the honey is completely dissolved. Let it cool. (You can make this ahead of time and store it in the refrigerator.)
In a shaker, combine the Tito's Vodka, freshly squeezed lemon juice, and honey syrup. Fill the shaker with ice and shake vigorously for 10-15 seconds.
Fill a highball or mason jar with ice cubes and strain the mixture into the glass.
Top it off with club soda for that fizzy lift.
Garnish with a sprig of fresh mint, slapping it between your hands once to release its aroma. Add a slice of lemon either on the rim of the glass or floating on top.
Optional: For an extra touch of Texas, add a few drops of a locally made hot sauce to give it a spicy kick.
Stir gently, serve immediately, and watch the smiles as your guests savor the taste of Texas.
4 – Texas Mule Cocktail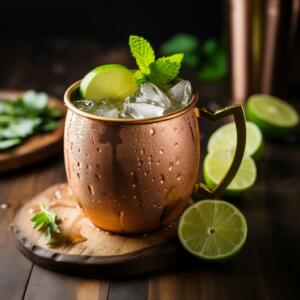 The Moscow Mule gets a Texas makeover with this zesty and invigorating cocktail! You only need to prepare the following:
Copper mug
2 parts whiskey
2 ½ parts ginger beer
1/2 part lime juice
Start by filling a copper mug with two parts whiskey and half part lime juice. Top it off with iced and chilled ginger beer and stir gently. For an extra Texan touch, garnish with a lime wedge! The Texas Mule is not only refreshing but also carries a subtle kick that will keep your taste buds dancing throughout the party. And why the copper mug? Copper conducts temperature, taking on the mule's temperature when poured into the glass. As a result, it keeps the drink colder and for longer!
5 – Cowboy Punch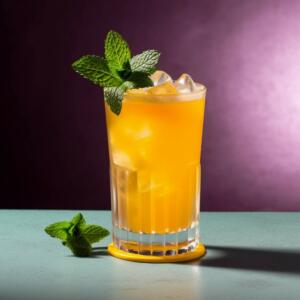 No Texan party is complete without the Cowboy Punch, the ultimate crowd-pleaser. This cocktail promises a bright, sweet flavor of fruit punch, but adds a little bite to a traditional favorite! You only need these three ingredients:
White Grape Juice
Club Soda
7Up
Simply mix the three and chill until ready to serve. The Cowboy Punch is perfect for those hot summer days as it offers a sweet and tangy taste with a boozy twist that will have your guests wrangling for refills.
A Cowboy Punch is perfect if you make it with real fruit juice.
6 – Tito's Texas Sipper
Tito's Handmade Vodka, a beloved Texan brand since the mid-90s, is the star of this delightful cocktail. It's America's original craft vodka, produced in Texas' oldest legal distillery in Austin.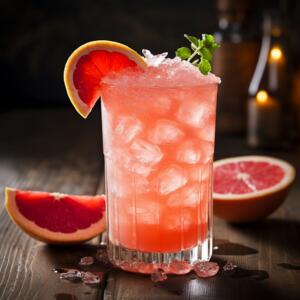 Give your summer party a combination of citrus and smooth elderflower, and watch your guests smack their lips in delight! Here's a list of ingredients you'll need:
1 1/2 ounces of Tito's Handmade Vodka
1/2 ounce of elderflower liqueur
2-ounce sparkling water
1 1/2 ounces of fresh grapefruit juice
Combine Tito's Handmade Vodka, elderflower liqueur, and grapefruit juice in a shaker filled with ice. Shake vigorously until chilled and strain into a glass with fresh ice. Top with sparkling water, garnish with a mint sprig, and you have Tito's Texas Slipper! This smooth and sophisticated cocktail embodies the Texan spirit in every sip.
7 – Texas Ranch Water
Texans may have different answers for the best barbecues or the best places for music, but one thing everyone can all agree on is Ranch Water. When you think about hot, balmy Texas summers, you think about this cocktail!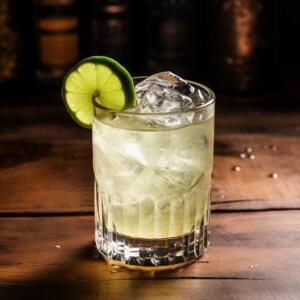 It's called Ranch Water because when cowboys work hard all day, they want some refreshing water (spiked, of course). And if you want the same for your next summer party, here's what you need:
3 ounces of Blanco tequila
1 1/2 ounces of fresh lime juice
Chilled Topo Chico
Fresh lime wedge
Fill any glass with ice, and add tequila and fresh lime juice. Top your drink with Topo Chico, and then add a fresh lime wedge to the glass rim. There you have it —Texas Ranch Water! This cocktail is the perfect mix of tart and fizz, with a hint of tequila to keep you cool in the Texas heat. You can also adjust the amounts of tequila and lime juice to fit a smaller glass. Or, you can do so if you just want your cocktail to be less boozy in general!
Texan, Cheers to That!
Bringing the spirit of Texas to your next summer party is made effortless with these five Texas-themed cocktails. A Texas Tea Cocktail is the perfect choice if you want a sweet and light concoction. Go for Tito's Texas Slipper if you're looking for something smooth and sophisticated, and Texas Ranch Water to keep cool in the hot Texas heat. From the robust Texas Tea to the invigorating Ranch Water, each drink uniquely captures the essence of the Lone Star State.
These flavorful concoctions will transport your guests to the heart of Texas, filling the air with laughter, joy, and a sense of adventure. Elevate your next summer party with delightful drinks that celebrate Texas's rich cultural heritage and vibrant flavors.
Shop at Zipps Liquor
At Zipps Liquor, we understand the importance of capturing the essence of Texas in every sip. That's why we offer a wide selection of beverages that embody the spirit of the Lone Star State. Whether you're hosting a summer party or simply want to indulge in Texas-themed cocktails, we've got you covered.
With our convenient online shopping platform, you can browse through our extensive collection of beer, wine, spirits, and mixers from the comfort of your own home. Simply shop online and choose between pickup or delivery options that suit your preferences. We make it easy for you to stock up on your favorite drinks without ever leaving your doorstep.
However, if you prefer a more hands-on approach, we invite you to visit your nearby liquor store. Our huge stores are filled with an impressive variety of international and local brands, all offered at great prices. Our knowledgeable staff will be there to assist you in finding the perfect Texas-themed cocktails for your next gathering.
So, whether you opt to shop online or visit our local liquor store, we are here to cater to your needs. Experience the flavors of Texas with our carefully crafted cocktails that bring joy, laughter, and a sense of adventure to any occasion. Let us help you elevate your next summer party with the authentic taste of the Lone Star State. Cheers!