Finding the perfect liquor isn't easy, especially if you have a discerning palate. Fortunately, spots like Zipps Liquor have several options to choose from. One brand that may have caught your eye is D'USSE. This brand is known for its glamorous bottles, unique distilling techniques, and interesting owners. If you're unfamiliar with D'USSE, you may want to learn more and give the liquor a try. Here is all you need to know about D'USSE Liquor.
D'USSE cognacs are made from a blend of Ugni Blanc, Folle Blanche and Colombard grapes. The company uses only the finest barrels for aging their cognacs, which results in a smooth, rich flavor. D'USSE's flagship cognac is the XO, which is aged for a minimum of six years.
If you're looking for a luxurious cognac to enjoy, D'USSE is definitely worth checking out.
Basics of Cognac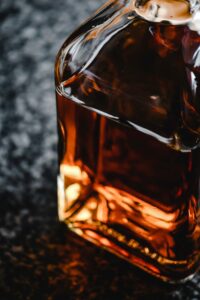 You may be wondering – what is D'USSE liquor? Well, D'USSE is a brand that specializes in Cognac. While this is a lesser-known liquor, it's definitely worth exploring.
Cognac is the perfect spirit for brandy lovers everywhere. Essentially, this liquor is a form of brandy with more specific qualifications. Regular brandy can be practically any distilled fruit juice. Cognac, on the other hand, is usually made with white grapes specifically. The liquor also has more specifications regarding its creation.
Regionally, Cognac comes from Cognac, France. It's made in a nearby wine-growing region. The white wine utilized in the distillation is generally acidic and inedible, which makes for a quickly aged liquor. Once pressed, the grapes are left to ferment for 2 to 3 weeks. Finally, the product is aged in an oak barrel for at least two years. Cognac can only be sold after this two-year deadline.
D'Usse Cognac History
The D'USSE Cognac company was founded by Shawn "JAY-Z" Carter in collaboration with Michel Casavecchia, one of the world's most experienced and respected cellar masters. Together, they created a smooth, bold cognac that perfectly reflects the luxuriousness and sophistication of the French art of cognac making.
D'USSE takes its name from the Château de Cognac, one of the oldest cognac houses in France and the very place where Casavecchia worked his magic. This 200-year-old venue is steeped in history and tradition, and it is here that D'USSE was born.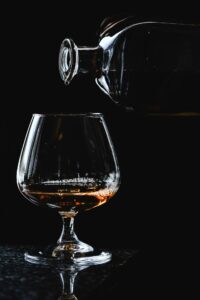 D'USSE VSOP
D'USSE VSOP is one the two types of Cognac D'USSE sells. VSOP stands for Very Superior Old Pale. VSOP cognac has to be created with Eaux-de-vie (spirits usually made from non-grape distilled fruits) that's been aged for at least four years. This particular cognac is aged for at least four and a half years. Notably, most of the Eaux-de-vie used is distilled in the famous Chateau de Cognac. This gives the cognac a more historical background, despite the brand being founded fairly recently.
D'USSE VSOP is described as full-bodied and good for sipping. It also works well as a mixer. When it comes to aromas, VSOP supplies scents of
Cinnamon

Flowers

Wood

The taste of VSOP also provides several flavors. This includes

Honey

Dried fruits

Caramel

Almonds

Spices
VSOP is usually described as smooth and gentle. Tasters describe a small alcoholic kick after the finish. When it comes to drinks, D'USSE VSOP works well in light refreshments. If it's a hot day, VSOP is perfect in lemonade. If you're celebrating, you can try it in a champagne sparkler.
D'USSE XO
The D'USSE XO is for cognac lovers that enjoy a more aged liquor. XO stands for Extra Old. Unlike VSOP, XO cognac must be made from Eaux-de-vie that's been aged for at least six years. D'USSE XO is aged for at least ten years, making it stand out in this area. The Eaux-de-vie is aged in French oak barrels, providing an interesting and unique flavor. In terms of flavor notes, XO gives the taste of
Walnut

Dark chocolate

Blackberry

Apricot
Generally, D'USSE recommends that its XO be served neat or on the rocks. However, it can also be enjoyed in a Billionaire's Sidecar. If you're a Cognac lover, be sure to at least try this offering without a mixer.
Shawn Carter (Jay-Z)
One of the most interesting aspects of D'USSE as a brand is its current owner, Shawn Carter. Carter is better known as Jay-Z, the American rapper, and husband of Beyonce. Jay-Z shares his ownership of D'USSE with the famous liquor brand Bacardi. The rapper became interested in the brand when Michel Casavecchia, the mind behind D'USSE Cognac, invited him to try his inventions. Jay-Z was apparently inspired by this tasting, remembering his interest in liquor as a whole. Notably, Jay-Z put together a 1969 Anniversaire Limited Addition Auction to celebrate his fiftieth birthday. The Cognac made for it was placed in twelve-cut crystal diamond decanters, making for a very fancy display. Impressively, the auctioned Cognac was sold for over 50,000 US dollars.
Michel Casavecchia
Michel Casavecchia is one of the most respected names working in the world of liquor. Casavecchia has the distinction of being the most experienced cellar master currently working. While many cellar masters simply reuse the same techniques over and over again, Casavecchia often experiments with new methods. The cellar master is also given access to some of the best ingredients in the world, mainly because he is able to work at the Chateau de Cognac. This chateau is based near the Charente river. If you're a history lover, you'll be interested to know that King Francis the First (who was known for being a patron of the arts, as well as his ongoing feud with Holy Roman Emperor Charles the Fifth) was born within the Chateau. If you're interested in learning more, the Chateau provides in-depth tours.
Casavecchia often states that he enjoys being able to create both a strong blend and a lighter one, providing two distinct types of cognac. This uniqueness sets D'USSE Cognac apart from other brands, particularly older ones.

Mission
D'USSE is a brand that promotes a modern take on Cognac as a liquor. The company seeks to create unique flavors, as well as to promote innovation. D'USSE in general describes itself as bold and courageous.
While having only two products may seem lackluster, the Cognacs are worlds apart from each other. Not only are the flavors different, but the aging process and the mixing ability are unique. If you're looking for a lighter flavor to put in a cocktail, go for the VSOP. If you're a huge Cognac lover that enjoys brandy neat, the XO will probably be a better choice. Either way, both promote D'USSE's mission of providing unique and modern Cognacs.
Introducing your palate to new brands can be challenging, especially if you're unfamiliar with a certain type of liquor. However, you may find yourself enjoying D'USSE's modern take on Cognac. Visit your local liquor store and see what you think of D'USSE as a brand.