If you're a big fan of bourbon, chances are that you've heard of Bulleit Bourbon. This hugely popular bourbon is owned by one of the world's biggest whiskey and spirit producers, so you may have even tasted it without knowing! Regardless of whether you've encountered it or not, though, it's natural to wonder if it's worth the price tag it carries.
Many people come to us with questions — is Bulleit Bourbon good? And is the taste worth the Bulleit bourbon price? So we're here to answer them once and for all.
Consider this our Bulleit Bourbon review. We'll discuss everything you need to know about this product, including its taste, how to best drink it, and more so you can figure out if it's worth a bit of splurging.
Taste Notes
On our first sip of Bulleit bourbon, we quickly detected hints of licorice, honey, apple, and roasted vanilla, along with undertones of pineapple, fennel, cinnamon, and toasted oak. Because it has a taste of tropical fruits mixed with sugar, it gives off the flavor of a higher-rye bourbon.
After a few more mouthfuls, we could also detect dried cherry, orange peel, and cocoa powder. While there were a few more hints of fruits this time around, the flavors were still light and muted.
Bulleit Bourbon isn't anything too mind-blowing, but we're not saying it's bad either. It comes across as an approachable and subdued drink, but it's not too thin or boring, making it nice to have around when you want to return to the basics.
Pros & Cons of Bulleit Bourbon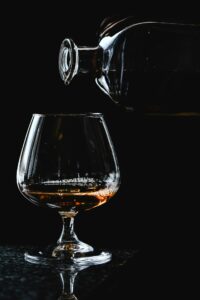 There are plenty of things to love about the Bulleit bourbon, and we appreciate the value for money it provides due to its affordability. This medium-caramel liquor is easy on the throat and nose, making it popular for any occasion. We also liked it for the following reasons:
It has a soft taste that makes use of sweet and fruity flavors.

These flavors are supported by woody and earthy undertones.

It feels easy, smooth, and warm.

It provides a consistent aftertaste and fades with a long finish.

It's one of the more affordable choices in the market.
What is Bulleit Bourbon Made From?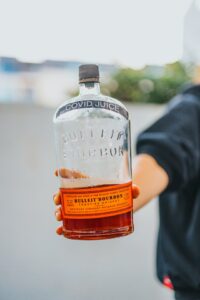 The history behind Bulleit bourbon is quite interesting; not many people know, but this spirit's original composition is more aligned with rye whiskey than bourbon. Inspired by an old family recipe that pioneered whiskey more than 150 years ago, a new set of ingredients was used to create these unique bottles.
The complexity and subtlety of Bulleit bourbon come from a unique blend of corn, a lot of rye, barley malt, yeast, and Kentucky limestone filtered water.
The high rye content gives this bourbon a spicy and bold flavor profile. However, before this new beverage could take the world by storm, its founder, Augustus Bulleit, suddenly disappeared as he transported his products from Kentucky to New Orleans.
His creation almost disappeared alongside him until Tom Bulleit, his grandson, decided to continue his legacy in 1987. The Bulleit brand was later bought by Seagram in 1997, introducing this product to Germany, Australia, and the UK.
Before long, Diageo acquired Seagram's assets, including Bulleit. According to Diageo, they use Stitzel-Weller for the maturation process.
The company also confirmed that Bulleit bourbon is wholly distilled at the Four Roses Distillery in Lawrenceburg, KY, following the standards set by the Bulleit Distilling Company and Tom Bulleit. As a result, the bold flavor of the original product was retained, featuring a high amount of their proprietary yeast culture and rye grain.
Just like any other Kentucky Bourbon, Bulleit is aged inside charred American oak barrels without the use of any additives.
Types of Bulleit Bourbon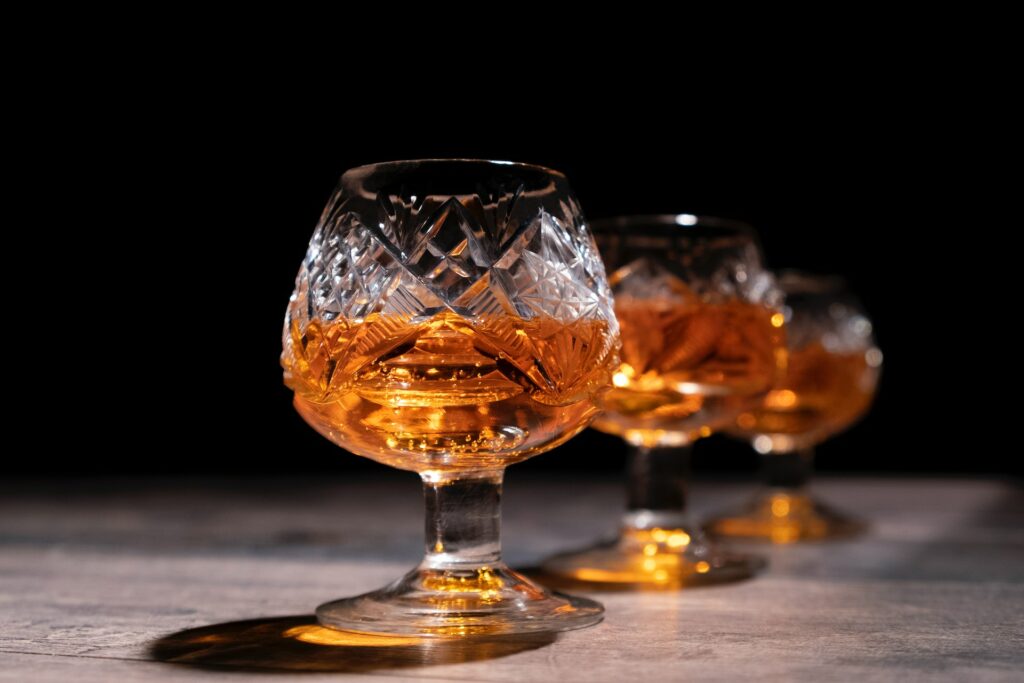 There are a few different kinds of Bulleit bourbon available. Below, we'll give you an overview of their flavors and proofs so you can figure out which is the best fit for your palate.
Bulleit Bourbon:

The classic, coming in at 90 proof. With a high rye content, this bourbon has sweet oak aromas, a gentle spicy taste, and a smooth finish.

Bulleit Bourbon 10-Year-Old:

As the name implies, these bottles are aged for 10 years to come in at 91.2 proof. The charred American white oak barrels that they age in leave these bottles with a rich, deep flavor that's delightfully smooth on the tongue.

Bulleit Barrel Strength:

If you're looking for a punch, Bulleit Barrel Strength is bottled right from the barrel; while the proof varies from batch to batch, you can expect it to fall between 120 and 125 proof. It doesn't only deliver strength. However, it also delivers the gentle spiciness that's indicative of a good Bulleit bourbon and tones of maple, oak, and nutmeg. The satiny finish will have you coming back for more, so remember to drink responsibly.
How to Drink Bulleit Bourbon
If you want a good representation of Bulleit bourbon's honey, rye, and cinnamon flavor, be sure to sip this bourbon neatly and slowly.
Because of its high rye content, you may notice the overtone of spices — if you think the taste is a bit too strong, you can add some water or serve it on the rocks to cut back on the strength.
It's also best to use the correct glassware, such as a Glencairn or rocks glass, as this will completely open up its aromas to you.
Buy the Best Bourbon at Zipps Liquor Stores
Ready to try your own bottle of Bulleit bourbon? Whether you go for the classic, the aged, or the barrel strength variety, you can pick it up in one of Zipps Liquor's stores throughout Texas.
Our friendly team of experts can help you find any other information you need before buying, like Bulleit bourbon's calorie count, the best glassware for the job, and more.
If you want to keep looking for another bourbon, be our guest! Zipps Liquor carries a wide selection of the finest wines, beers, and spirits. Find out a liquor store near you in Texas or shop online and get your favorite drinks delivered to you, so you don't have to leave your home.