Do you have plans for what to do on the upcoming Easter holiday? The Easter bunny 🐰 is hopping just around the corner, so you better be ready. Don't let this holiday pass by like any other Texas day. Use it to spend quality time with the people important to you and create new memories.
With a little creativity and planning, you can host an awesome Easter party for both kids and adults. Read on for 8 great Easter party ideas for 2023.
1. Serve Traditional Easter Food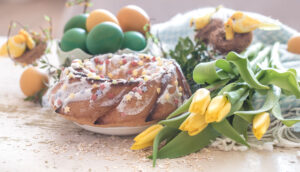 No party is complete without good food. If you want to bring the spirit of Easter into your family and guests' stomachs, serve traditional Easter dishes. Easter is a Christian cultural holiday, so you can consider cooking symbolic or traditional dishes. For a dish that symbolizes kindness and Christ's sacrifice for mankind, serve roast lamb. You can also serve complimentary food items like carrots, asparagus, wedding soup, and Jollof.
Moreover, you can serve desserts representing more modern symbols of Easter, like chocolate eggs, Easter bunny cakes, and spiced Easter biscuits. You can even make these dishes on the day itself and teach your kids and friends how to make your Easter party food ideas. This way, you'll be not only sharing good food but also memories and knowledge with your loved ones.
2. Play Physical and Virtual Games
A party without fun and games is no party at all. For a messy, active game, you can play the Easter flour toss game, where players fill plastic Easter eggs 🥚 with flour and toss them back and forth between teammates. The goal is to prevent the eggs from breaking.
You can also play the Easter egg balancing game, where players balance plastic eggs between their fingers, knees, elbows, and/or other body parts while maintaining a scarecrow pose. While balancing the eggs, they race to a designated finish line. The first to cross the finish line with all their eggs intact wins!
You can also come up with your own game. The only requirement is that it should be something that the entire family or group will enjoy.
If you're still practicing social distancing or if a loved one is unable to reach the venue, you can play virtual games using video conferencing platforms. You can play Bunny Hop Workout, where a person gives commands like "hop like a bunny" and "swim like a duct" and the contestants have to obey until a new command is given. Again, feel free to make up your own virtual game.
3. Host an Easter Cocktail Party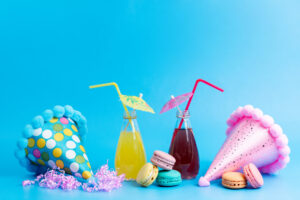 If your guests are all adults, host an Easter cocktail party. Cocktails can make any gathering fun, exciting, and refreshing. If you don't know what Easter drinks to serve yet, consider the Rancharita cocktail.
This beverage has an elegant blood orange hue coupled with a powerful yet well-balanced taste. It's very easy to make — you only need two ounces of Blanco tequila and an ounce of Cointreau, blood orange juice, and lime juice. Mix everything, add ice, add a garnish, and voilà! You have yourself a classic Easter cocktail.
For a more refreshing cocktail, you can make Ginger Greyhounds. This is a bright cocktail that has a powerful kick and sweet taste. To make it, you'll need either vodka or gin, fresh grape juice, club soda, ginger liqueur, and a few grapefruit wedges for garnish. You and your friends can experiment with other spirits and ingredients too!
4. Organize a Fundraising Event
Easter Sunday is a cultural holiday where Christians commemorate and give thanks for Jesus Christ's resurrection after sacrificing himself for mankind. A perfect way to honor the original essence of Easter is by helping those who are in need.
One way you can do this is by setting up a fundraising event. You can call on your buddies and form an Easter bunny cleaning crew. Offer to clean up your neighbor's lawn, driveway, or house for a small fee. To make the activity fun, you can tell the volunteers to wear Easter bunny outfits or accessories while they're cleaning.
Alternatively, you can fill up a jar with small Easter eggs and have participants guess how many eggs there are. They'll have to pay a small fee every time they try. When they guess the correct amount, they'll get a prize. Meanwhile, all the money collected would be given to your preferred beneficiary.
5. Arrange and Plant Flowers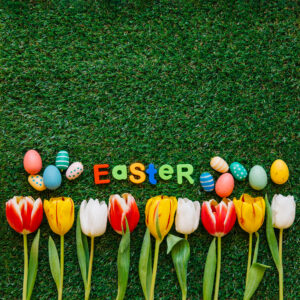 Easter is celebrated right in the middle of the flower season. Take advantage of the season by including flower planting and arranging in your Easter party plans.
Take a couple of vibrant tulips, lilies, and other greenery, and arrange them in a bouquet. You can also place them in a vase with water if you want them to last longer. If you want to be extra creative, you can arrange them in your table settings. Flowers are both beautiful and fragrant, so they'll serve as excellent Easter party decor.
When you take something from nature, you must also give something back. For a hands-on Easter activity, consider planting new flowers and greenery in your yard or for a neighbor. There are many easy-grow kits you can find in your local retail store. If you're an experienced gardener, you can also plant wildflowers in your community.
Make the planting event a social activity by involving your friends and family. By doing this, you'll not only help the environment, but you'll also have quality time with the people you love.
6. Go on a Wild Ride
If you want to see the great outdoors on Easter day, then go on a wild ride with your family and friends. Prep and inspect your car beforehand to avoid any unwanted incidents. Also, don't forget to bring snacks. To stay hydrated throughout your journey, bring outdoor Easter drinks like Corona Extra and Rolling Rock beers.
Texas offers a wide variety of fun and exciting destinations. You can travel to Enchanted Rock State Natural Area and go hiking, biking, camping, or rock climbing. If you simply want to appreciate the view, you can look at the Hill Country scenery or stargaze after sunset.
If the weather has warmed up, visit Lake Buchanan to engage in recreational activities like boating, fishing, and swimming. You can also rent a cabin where you and the gang can set up your other Easter party ideas. Alternatively, you can just stay on the road and spend the rest of Easter Sunday exploring the vast Texas wilderness.
7. Set Up a Creative Photo Booth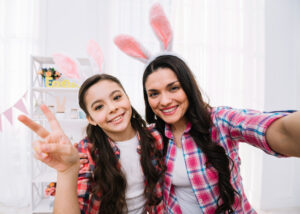 Like everything else, Easter too will pass. However, photographs can preserve the moments you had with your loved ones, so set up a creative photo booth to create lasting keepsakes.
You can make a DIY photo booth using some art materials, flowers, and cardboard. You can even add some neon signs or string lights in the background for an added Easter flair. Of course, a decent camera is likewise needed.
To get high-quality photos, a DSLR camera is recommended. However, you can use your smartphone's camera if you're on a budget. Just make sure that the photo booth is adequately lit to avoid dark and grainy images.
For the headdresses and accessories, you can improvise and use anything you have available at home. Gather your colorful hats, scarves, and other costumes, and then put them in a basket or container near the photo booth. If you have money to spare, you can buy Easter bunny costumes, headbands, and other Easter-themed accessories too.
8. Go Egg Hunting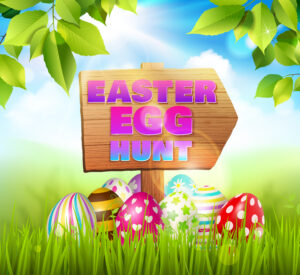 The Easter bunny and its eggs are ubiquitous symbols of Easter. Pay tribute to this classic tradition by organizing an egg hunt.
First, set up your home's Easter party decor. You don't have to make your house look like a fantasy world. Just give it enough character and charm to excite the kids and make their imaginations run wild.
Then, prepare the Easter eggs. To avoid food waste or too much of a mess, use plastic eggs. Make sure they have different colors and patterns. You can buy pre-painted ones, or you can paint them yourself. Put small treats, candy, or coins inside the eggs for a fun surprise.
Scatter the eggs in different places throughout your house and lawn. Hide them well enough to make the hunt challenging but not so thoroughly that little kids won't be able to find them. You can also require participants to play certain games or solve riddles before they can claim more lucrative eggs.
Give each participant a basket or container where they'll place the eggs they find. Once everything's set, you can begin the hunt!
Final Thoughts
From hosting a cocktail party to setting up a creative photo booth, there are many fun Easter party ideas you can choose from.
If you're looking for a place to get Easter drinks, Zipps Liquor is the place to go. We have a wide selection of spirits, wines, beers, and other alcoholic and non-alcoholic beverages. We also have dozens of liquor stores throughout Texas and a website where you can shop online. Prepare for Easter early, and buy drinks online from our website or visit your nearest liquor store today.