Shopping for Father's Day can be a tricky affair, especially for dads who grow more sentimental with time. Buying gifts that your dad can relate to is one of the easiest ways to connect with him. Lucky for you, if your dad is a beer lover, we've listed a number of cheers-worthy Father's Day beer gifts that will make your pops happy.
Here are some of the top 7 Best Father's Day Gifts for your beer-loving dad:
This precision-engineered pint glass is one of the most innovative Father's Day beer gifts you could buy. It holds exactly one pint of beer and keeps it at that ice-cold temperature for a handful of hours, allowing dad to enjoy a refreshing drink at the end of a long day.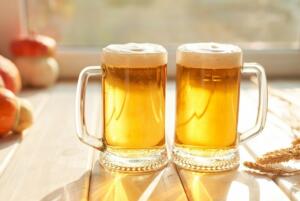 A bottle opener is a simple but practical beer-drinking accessory, and this wall-mounted variant adds style and functionality. It's definitely one of the more thoughtful beer gifts for dad, as he can simply walk over to uncork his favorite beer at anytime. Want to add an extra touch for your sentimental dad? Get his initials boldly engraved into the mount.
A Personalized Beer Glass
Having his very own drinking glass for special occasions or a quiet day at home is one of the best ways your dad can remember you. Have his name, nickname, or maybe even "Grandpa" written in a stylish font to make it his favorite drinking glass.
This beer dispenser can be used at home or on the move when dad and his friends decide to form their own drinking club. Able to take up to 60 ounces of beer at once, it gives it the fresh draft taste that has become associated with pubs and bars… making it one of the most ideal beer gifts for dad.
Every beer lover prefers their beer chilled at all times, including dads. Give your pops some peace of mind with these beer chiller sticks! The stick turns warm beer to chilled beer almost instantly, and allows your dad to enjoy his beer exactly the way he likes it. If you're looking for Father's Day beer gifts that will please your dad, this is one of the best.
Customized Beer Holder
Dads love hanging out with their buddies as often as possible; a six-pack being a key part of these gatherings. This beer holder comfortably carries six bottles of beer, and even has its own bottle opener. You can engrave the antique wooden designs with a number of symbols to give it a more unique appearance. Therefore, with his name or nickname carved into the wooden surface, this beer gift for dad will turn heads every time it makes an appearance.
A Growler Gift Set
This gift set is useful for camping and road trips. That's where your dad cannot readily get access to a bar or pub for a cold drink of beer. This set is equipped with polypropylene threads. It prevents any leakage or condensation that could increase the temperature excessively. Moreover, it can also keep beer cold up for as long as two days! If your dad loves road trips or still enjoys camping with family or friends, this growler gift set will be an extremely useful accessory.
Father's Day is an event that leaves every dad celebrated in his own special way. In his older age, your dad might not appreciate expensive gifts or cash bonuses as much as he used to. Therefore, showing that you know what he wants will mean more to him than anything else. These Father's Day beer gifts are personal and thoughtful items. They will for sure make your dad happy every time he thinks of you.
Visit your nearest liquor store for a beer to go with your dad's new accessories!