Ah, the sweet scent of summer! The season of joy is upon us and at Zipps Liquor, we're as thrilled as you are. Imagine lounging by the pool, the aroma of the barbecue wafting through the air, and an ice-cold gin fizz in hand. Yes, you heard it right – a gin fizz! It's the perfect accompaniment to your sun-soaked adventures. Our stores are brimming with an array of spirits and mixers, and what better way to celebrate summer than with a cool, bubbly gin-based concoction?
In this digital age, we understand the importance of convenience. This is why Zipps Liquor invites you to visit our local liquor stores in Texas, which are treasure troves for beverage enthusiasts. We also offer the modern ease of online shopping. Choose between pickup or home delivery, and equip yourself with everything needed to be the ultimate summer host. With a well-stocked pantry courtesy of Zipps Liquor and the tantalizing gin fizz recipes that follow, you are all set to beat the summer heat in the most delicious way possible!
Whether you're hosting a family barbecue or a spontaneous pool party with friends, our gin fizz recipes are sure to leave everyone spellbound. So, buckle up as we take you on a thirst-quenching journey through Gin Fizz country, with the Lone Star State's summer sun as our guide! 
Classic Gin Fizz Cocktail
The classic gin fizz cocktail recipe is refreshing and incredibly simple to whip up. This beloved concoction is perfect for savoring the summertime vibes. Here's a step-by-step guide to ensure you nail this timeless recipe:
Gather your ingredients: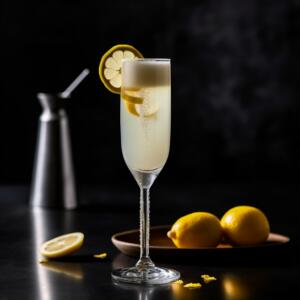 2 ounces of quality gin,
0.5 ounce of fresh lemon juice,
1 teaspoon of powdered sugar,
3-4 ounces of club soda,
A slice of lemon for garnish.
Shake it up:
In a cocktail shaker full of ice, vigorously shake the lemon juice, gin, and powdered sugar together.
Assemble the drink:
Strain the shaken mixture into a highball glass filled with ice.
Top it off with club soda to add that effervescent fizz.
Add the finishing touch:
Garnish with a lemon peel or slice to not only enhance the visual appeal but also add an extra zing to the flavor.
Enjoy responsibly:
Sip and savor the light, effervescent, and refreshing taste of your gin fizz cocktail!
Pineapple Bombshell Cocktail
If you have a penchant for fruity cocktails with a tropical twist, the Pineapple Bombshell Cocktail should be at the top of your must-try list. This refreshing gin-based drink combines the tantalizing flavors of pineapple, lime, and sparkling water for a perfectly balanced taste.
Ingredients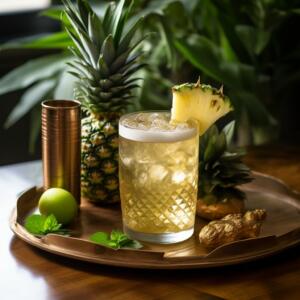 Before you start, make sure you have the following ingredients at hand:
Bombshell Gin: 1.5 ounces
Lime: 1 (You will need to juice it)
Pineapple Juice: 4 ounces
Sparkling Water: To top
Ice Cubes: Enough to fill a cocktail shaker
Optionally, you can also prepare some extra lime slices for garnish.
Step-by-Step Preparation
Now that you have all the ingredients ready, let's dive into the simple yet exciting process of making this delightful cocktail.
Step 1: Set Up Your Equipment
Get a cocktail shaker.
Have a glass ready for serving.
A juicer for extracting lime juice.
Step 2: Mix The Ingredients
Pour 1.5 ounces of Bombshell gin into the cocktail shaker.
Cut the lime in half and use a juicer to extract the juice. Add the lime juice to the shaker.
Add 4 ounces of pineapple juice to the mixture in the shaker.
Fill the shaker with ice cubes.
Step 3: Shake Well
Firmly put the lid on the cocktail shaker.
Shake the mixture vigorously for about 10-15 seconds to ensure all the flavors blend well.
Step 4: Pour and Garnish
Strain the mixture into your serving glass.
Top it off with sparkling water to give it that extra fizz.
Garnish with a slice of lime on the rim of the glass or float it on top.
Enjoy Your Pineapple Bombshell Cocktail
Take a moment to admire your creation before taking the first sip. Revel in the tropical and citrusy flavors dancing on your palate. The Pineapple Bombshell Cocktail is ideal for summer days, poolside lounging, or whenever you crave a refreshing gin fizz mix. Enjoy responsibly!
Lavender Gin Cocktail
The Lavender Gin Cocktail is a delightful and aromatic variant of the classic Tom Collins, which is renowned for its refreshing taste. This variation adds a touch of sophistication with the infusion of lavender, creating a balanced yet captivating flavor profile.
The Lavender Gin Cocktail is perfect for sipping on a warm evening or when you're looking for something a little more refined than the typical drink. Its enchanting combination of botanical gin and floral lavender, balanced with the tartness of lemon, makes for an unforgettable experience. Whether you're hosting a gathering or enjoying a quiet night in, this cocktail is sure to impress.
Ingredients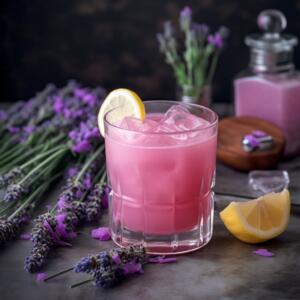 Before starting, gather the following ingredients:
Lavender simple syrup
Gin
Soda water
Lemon juice
Fresh rosemary or a sprig of lavender (for garnish)
Lemon wheel (for garnish)
Ice cubes
Making Lavender Simple Syrup
First, you will need to prepare the simple lavender syrup, which is essential for adding the lavender flavor to the cocktail.
Ingredients:
1 cup sugar
1 cup water
2 tablespoons dried lavender
Instructions:
In a small saucepan, combine sugar, water, and dried lavender.
Bring the mixture to a boil, then reduce the heat and let it simmer for about 2-3 minutes.
Remove from heat and let it steep until it cools down.
Strain the mixture to remove the lavender and store it in an airtight container in the refrigerator.
Crafting the Lavender Gin Cocktail
Step 1: Mixing the Ingredients
Start by adding four ice cubes to a cocktail shaker. It's important to use the right number of ice cubes to ensure that the cocktail is chilled without getting watered down.
Pour in the lemon juice, gin, and lavender simple syrup over the ice.
Shake well until the ingredients are mixed and the mixture is chilled.
Step 2: Serving the Cocktail
Strain the mixture into a glass filled with ice.
Top it off with soda water to give it a fizzy texture.
For an elegant presentation, garnish with a lemon wheel, fresh rosemary, or a sprig of lavender.
Sparkling Raspberry Royale
The Sparkling Raspberry Royale is an elegant and delightful cocktail that beautifully fuses the classic Kir Royale with the freshness of a breakfast martini. It is perfect for those moments when you are looking for something unique and refreshing. Below is a step-by-step guide to making this delectable drink.
Ingredients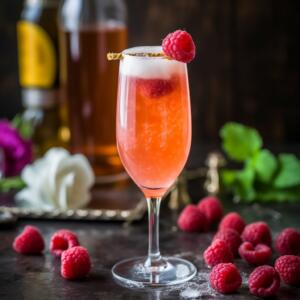 Before starting, gather all the necessary ingredients for your Sparkling Raspberry Royale:
1.5 ounces of gin (Old Tom Gin is recommended for its floral notes)
1 ounce of fresh lemon juice
2 bar spoons of premium raspberry jam
Champagne to top
Ice cubes
Mixing the Cocktail
Step 1: Preparing the Base
Take a cocktail shaker and fill it with ice cubes.
Add the gin, fresh lemon juice, and raspberry jam to the shaker.
Shake well to ensure that all the ingredients are combined properly.
Step 2: Serving the Cocktail
Strain the mixture into your chosen cocktail glass to make sure there are no ice chips or raspberry seeds in the drink.
Top off the glass with champagne.
The Perfect Harmony of Flavors
Effervescence and Freshness
The champagne's effervescence adds a touch of elegance and brings out a fresh and satisfying scent.
The bubbles in the champagne elevate the overall drinking experience by engaging your senses.
The richness from Raspberry Jam
The premium raspberry jam is key to this drink as it offers a strong, rich flavor.
Selecting a high-quality jam can make a world of difference in the taste and depth of your cocktail.
Balance of Citrus and Sweetness
The lemon juice adds a citrusy tang, which cuts through the sweetness of the raspberry jam, creating a well-balanced flavor profile.
The acidity of the lemon juice complements the jam and gin, ensuring that the cocktail isn't overly sweet.
Floral Notes from Old Tom Gin
Old Tom Gin is recommended for this cocktail as it imparts floral notes.
These floral notes add an extra layer of complexity and sophistication to the drink.
Enjoy Your Sparkling Raspberry Royale!
Finally, your Sparkling Raspberry Royale is ready! Whether you are making this cocktail for a special occasion or just to unwind after a long day, its intricate balance of flavors is sure to impress. Sip and savor each note in this delightful cocktail. Cheers!
Gin and Cucumber Basil Smash
When the temperature rises, there's nothing like a cool, refreshing cocktail to take the edge off. This Basil and Cucumber Gin Cooler is the perfect blend of fragrant herbs, crisp cucumber, and classic gin. Whether you're relaxing by the pool or entertaining guests, this cocktail is sure to be a hit.
Ingredients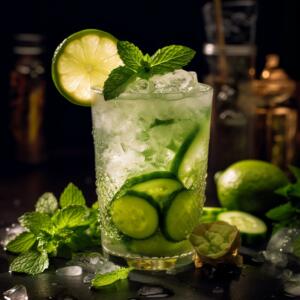 Gather all the ingredients needed for this exquisite summer drink:
Fresh Basil Leaves: 8 leaves for muddling and additional for garnish.
Cucumber: 8 slices for muddling and additional strips for garnish.
Sugar Syrup: 2 tablespoons.
Lemon Juice: 1 tablespoon of fresh lemon juice.
Tonic Water: A splash to top off the cocktail.
Crushed Ice: For shaking and serving.
Sugar: For rimming the glass.
Preparing the Glass
An elegant and sugared rim enhances both the presentation and taste of your cocktail.
Dip the rim of your cocktail glass in a saucer of water.
Pour some sugar onto a second saucer.
Dip the wet rim into the sugar to coat it evenly.
Crafting the Cocktail
Follow these steps to combine the ingredients and create the perfect blend of flavors:
Muddle the Cucumber and Basil: In a cocktail shaker, muddle the 8 cucumber slices and 8 basil leaves until you start to release their aromas.
Add the Rest of the Ingredients: Add the gin, lemon juice, sugar syrup, and crushed ice to the cocktail shaker.
Shake Well: Shake the cocktail shaker vigorously until frost forms on the outside, indicating that the contents are well-chilled.
Serving the Cocktail
Pour and garnish your cocktail to make it as appealing to the eye as it is to the palate:
Strain and Pour: Strain the cocktail into your prepared glass filled with crushed ice.
Add Tonic Water: Top the cocktail with a splash of tonic water to add some effervescence.
Garnish: Decorate the glass with additional basil leaves and strips of cucumber for a finishing touch.
Gin Rickey
Going back to the classics, you can never go wrong with a gin rickey cocktail. This timeless beverage effortlessly combines simplicity and flavor, making it a perennial favorite. Its invigorating taste is especially welcoming on hot summer days. Whether you're having a barbecue with your family or hosting a festive gathering at your Texas abode, the classic gin rickey cocktail is sure to be a crowd-pleaser.
Key Ingredients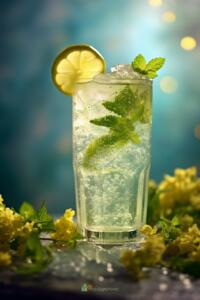 For this iconic cocktail, you only need three simple ingredients:
Gin: A versatile base spirit with botanical flavors.
Club soda: For effervescence and to lighten the drink.
Fresh lime juice: Provides a zesty, citrusy twist that balances the gin.
Step-by-Step Preparation
Step 1: Gather Your Tools and Ingredients
Before you start making the cocktail, make sure you have the following:
A highball glass
Ice cubes
Fresh limes
Gin
Club soda or soda water
Optional: Borage flowers for garnish
Step 2: Prepare the Glass
Begin by filling a highball glass with ice cubes. This ensures that your drink stays cold and refreshing.
Step 3: Add Lime for a Citrus Kick
Squeeze the juice from half a lime into the glass.
Add some lime wedges for an extra punch of flavor.
Step 4: Incorporate the Gin
Pour your preferred amount of gin into the glass. The botanicals in the gin will complement the zesty lime.
Step 5: Top it off with Club Soda
Add club soda or soda water to the glass until it's almost full. This creates a bubbly, effervescent texture that's perfect for a hot day.
Garnishing for an Elegant Touch
To make your gin and juice drink look even fancier and appealing, consider garnishing it:
Add borage flowers on top. These edible flowers enhance the presentation and add a subtle cucumber-like taste.
Serving Suggestions
Serve immediately to ensure the drink stays cold and fizzy.
Pair it with light snacks such as nuts, olives, or cheese platter.
Use a reusable straw to make it environment-friendly.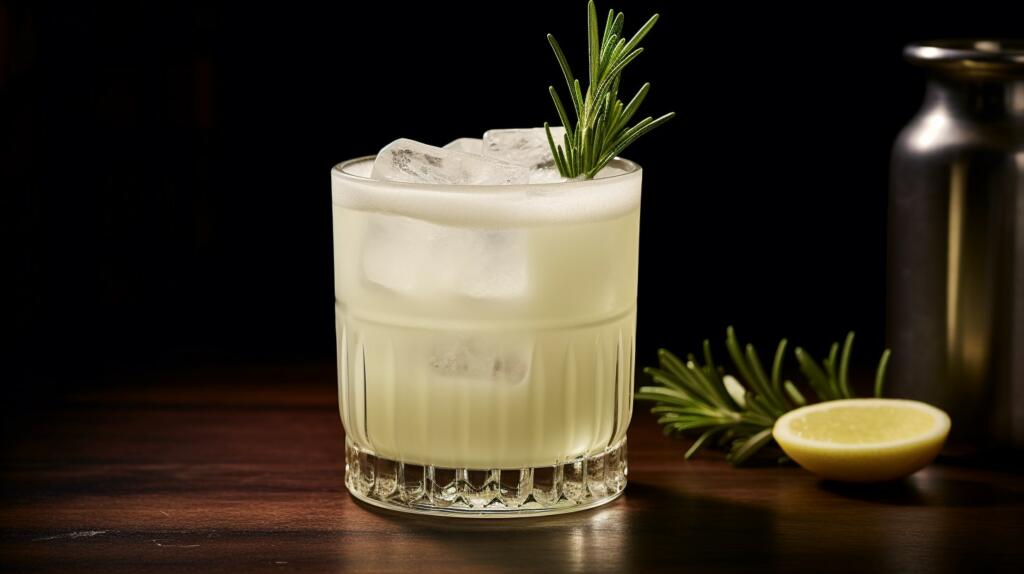 Go Beat the Summer Heat!
If you want to cool off this summer, be sure to try out some of these refreshing gin fizz recipes. The key to a great cocktail lies in the quality of the gin. Fortunately, at Zipps Liquor, we offer an extensive selection of local and international gin brands and all the mixers you need to whip up your favorite summer cocktails. 
We encourage you to shop online at your convenience, choosing between the ease of pickup and the comfort of delivery. Alternatively, you're welcome to visit your nearby liquor store, where our knowledgeable team can help guide you through our vast assortment. Whether you're an aspiring mixologist or a cocktail enthusiast, we're confident we can make your summer cooler and more enjoyable. Remember, the perfect Gin Fizz is just a Zipps Liquor store visit or online order away!
With so many gin varieties to choose from and cocktails to try out, there's so much fun and excitement to be had. Head on over to Zipps Liquor, choose your favorite options, and let your summer beGIN!