Country Cocktails offer a refreshing spin on classic Jack Daniel's whiskey, perfect for those moments when you're craving a flavorful, ready-to-drink beverage. These premixed drinks come in a variety of fruit and citrus flavors, allowing you to explore new combinations and discover your favorite.
As a Texan, you undoubtedly know the importance of having a good drink at hand. Whether it's a barbecue, tailgate party, or just another hot day, a cold drink is as essential as a cowboy hat in the Lone Star State. One brand that's become a staple for any liquor cabinet is Jack Daniel's. In this article, we'll dive deep into the world of Jack Daniel's Country Cocktails, a line of refreshing, ready-to-drink beverages that are perfect for any occasion. What's more, we'll uncover the hidden facts behind the calories in these cocktails and tell you where to find them!
History and Background
Jack Daniel's Country Cocktails is a line of flavored malt beverages that combine natural citrus and fruit flavors with a hint of Tennessee Whiskey. Originating from the Jack Daniel Distillery in Lynchburg, Tennessee, these beverages offer a unique and refreshing twist on the classic Jack Daniel's taste.
The Jack Daniel Distillery has a rich history, founded by Jasper Newton Daniel, also known as Jack. The distillery is situated 70 miles southeast of Nashville and has been producing its signature charcoal-mellowed Tennessee Whiskey known as Old No. 7 since the 1800s. The distillery has been owned by the Brown-Forman Corporation since 1956 and continues to be a significant part of the Lynchburg community.
In producing their Country Cocktails, Jack Daniel's maintains the same standards of quality and craftsmanship that have become synonymous with their brand. By blending their renowned Tennessee Whiskey with various fruit and citrus flavors, they offer a taste experience that stays true to their heritage while catering to diverse palates.
As you explore the range of Jack Daniel's Country Cocktails, you can enjoy a touch of Tennessee history in every sip. Whether you're a fan of the classic whiskey taste or looking for something new and refreshing, these beverages offer a glimpse into the legacy of the Jack Daniel Distillery and the rich traditions that have shaped their products through time.
A Glance at Flavors
Jack Daniel's Country Cocktails are not your everyday drinks. They are a selection of ready-to-drink malt beverages that come in several flavors. These drinks are finely crafted to capture the essence of Jack Daniel's whiskey while adding a fruity and refreshing flair. They are perfect for those who want to enjoy a drink without the fuss of mixing and shaking.
There are seven mouth-watering flavors to choose from: Black Jack Cola, Cherry Limeade, Downhome Punch, Lynchburg Lemonade, Southern Citrus, Southern Peach, and Berry Punch 🍒🍋. Each of these flavors brings a unique taste experience, making them ideal for various occasions.
Remember, each Jack Daniel's Country Cocktail has its own unique flavor profile, giving you plenty of options to enjoy and explore. So raise a glass and toast to your next flavorful adventure.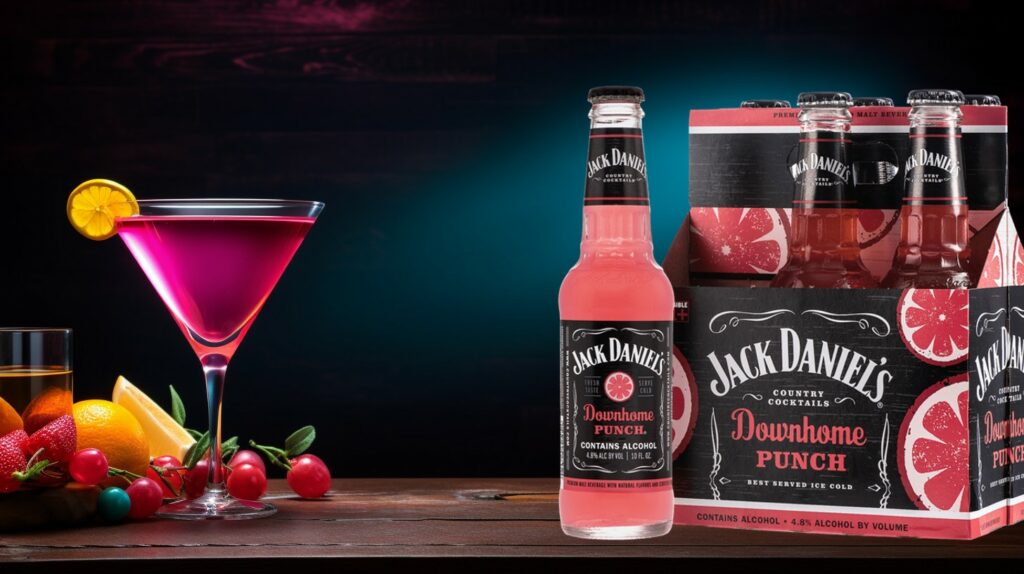 Lynchburg Lemonade
In the world of Jack Daniel's Country Cocktails, the Lynchburg Lemonade is a delightfully tart and refreshing option. With flavors reminiscent of classic lemonade, this cocktail is perfect for those warm summer months. The combination of citrus and the signature whiskey base gives it a bright and zesty touch. At 4.8% ABV, it delivers a delicious and flavorful experience without being overwhelmingly strong.
Downhome Punch
The Downhome Punch offers a sweet and fruity indulgence in the Country Cocktails lineup. This drink captures the essence of summer with the combination of cherry, orange, and peach flavors, creating a perfect blend for those who enjoy fruit-forward beverages. Like the other Country Cocktail offerings, the Downhome Punch has a 4.8% ABV, which balances the flavors while keeping the alcohol level reasonable.
Southern Peach
For fans of the classic peach flavor, look no further than the Southern Peach Country Cocktail. This variant presents a delectable mix of peach and whiskey, resulting in a delightful beverage that is both smooth and satisfying, perfect for both warm summer afternoons and cool evenings by the fire.
Southern Citrus
The Southern Citrus Country Cocktail brings together grapefruit and other citrus flavors for an enticingly zesty and refreshing experience. This drink is perfect for those who enjoy something brighter and more sour. With its 4.8% ABV, the Southern Citrus drink keeps you refreshed without overwhelming your palate.
Watermelon Punch
With a flavor that truly tastes like summer, the Watermelon Punch Country Cocktail offers a delicious blend of juicy watermelon and Jack Daniel's whiskey. This refreshing option provides a burst of fruity flavor with the unmistakable taste of the classic Tennessee whiskey. Perfect for picnics and pool parties, Watermelon Punch is sure to be a crowd-pleaser.
Cherry Limeade
If you're a fan of bold flavor combinations, the Cherry Limeade Country Cocktail is for you. This delightful variant combines the sweetness of cherries with the tangy brightness of lime, creating a unique and delicious drink that stands out. The 4.8% ABV ensures that the Cherry Limeade delivers a flavorful punch without being overpowering.
Black Jack Cola
For those who enjoy a classic cola taste with a whiskey twist, the Black Jack Cola Country Cocktail is a perfect choice. Merging the well-known taste of cola with the distinct flavors of Jack Daniel's whiskey, this option provides a familiar yet elevated drinking experience. With a 4.8% ABV, it's balanced and easy to enjoy any time you're in the mood for a whiskey-based cola.
Berry Punch
Last but not least, the Berry Punch Country Cocktail brings a colorful palette of berry flavors to your glass. This fruity concoction combines the sweetness of various berries with the smooth taste of Jack Daniel's whiskey, resulting in a flavorful and delightful beverage. Perfect for sipping on a warm day or during a festive celebration, the Berry Punch is sure to please your taste buds.
Jack Daniel's Country Cocktails Calories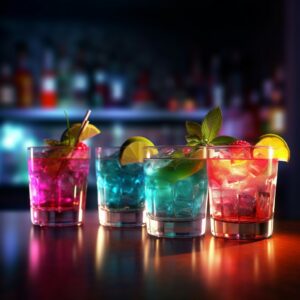 Jack Daniel's Country Cocktails are a popular choice for those who enjoy the classic Jack Daniel's flavor with a twist. These premixed drinks come in a variety of flavors, each with its own calorie content. Understanding the calorie content of these beverages can be helpful for those who are watching their weight or monitoring their calorie intake.
For instance, the Black Jack Cola variant has 189 calories per 11g serving (equivalent to 0.8 standard drinks), with 28g of carbohydrates and 28g of sugar. Additionally, you'll find 28mg of caffeine in this refreshing cocktail.
Another popular flavor is the Southern Peach. In this fruity cocktail, you can expect around 202 calories and a higher carbohydrate content of 31g, all of which come from sugars.
It's important to remember that the calorie content of a Jack Daniel's Country Cocktail can vary depending on the specific flavor and recipe used. For a comprehensive understanding of the nutritional value of each cocktail, you can refer to their respective official website or the product label. As with any alcoholic beverage, it's always a good idea to enjoy Jack Daniel's Country Cocktails in moderation and be aware of the calories if you're adhering to a specific diet or health plan.
Pair It Right 🥗
Want to enjoy your Jack Daniel's Country Cocktail with a scrumptious meal? Opt for healthier options such as salads, grilled chicken, or fresh seafood. This way, you can indulge in the delightful flavors without breaking the calorie bank.
Bring The Party Home – Tips on Enjoying Responsibly 🎉
Having Jack Daniel's Country Cocktails at hand is just the start; creating the perfect atmosphere for enjoyment is crucial. Whether you're hosting a backyard barbecue, a cozy get-together, or simply unwinding after a long day, ensure the setting complements the drink.
Playing some good ol' country music, arranging comfortable seating, and having a selection of snacks are small details that enhance the overall experience. Plus, don't forget those ice-cold glasses to serve your cocktails!
Sip Responsibly
Enjoying Jack Daniel's Country Cocktails is all fun and games until someone takes it too far. Always remember to drink responsibly. Being mindful of your consumption, not drinking and driving, and ensuring that everyone in the party is of legal drinking age are essential elements of a good time without regrets.
Encouraging your guests to savor the flavors and engage in conversation can also create a more social atmosphere that focuses on quality rather than quantity.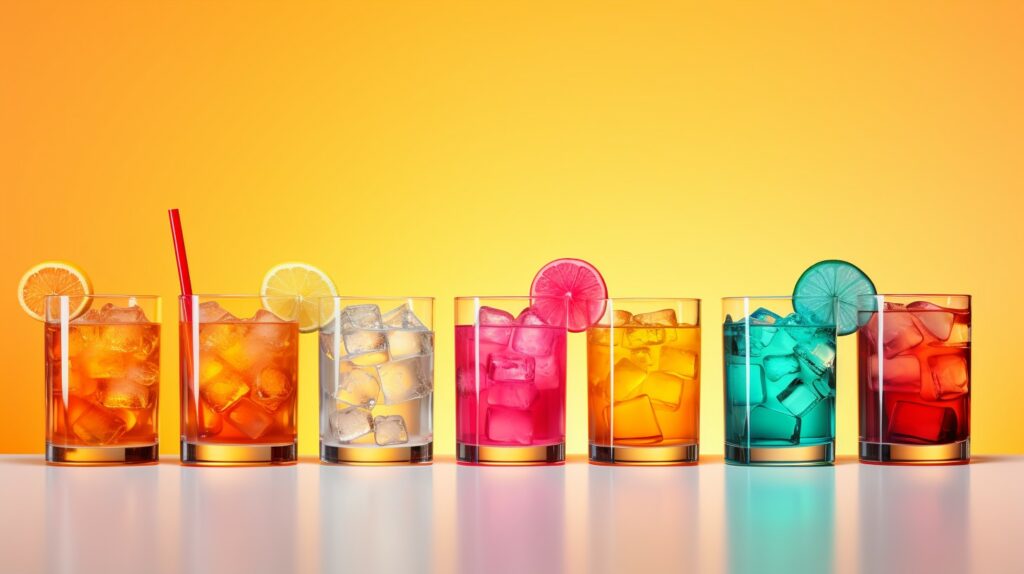 Where to Get 'Em? Texas, We Got You Covered!
Looking to enjoy a refreshing Jack Daniel's Country Cocktail? Zipps Liquor provides a convenient and easy way to purchase these flavorful beverages online. With a variety of flavors available, you're sure to find something suited to your taste.
Additionally, many liquor stores offer promotions or discounts, so it's wise to keep an eye out for those. It's a win-win for your wallet and your taste buds.
Remember, when consuming alcoholic beverages, always do so responsibly. Enjoy these alluring Jack Daniel's Country Cocktails at your next event or gathering, and let the delightful mix of sweet and sour flavors create a satisfying and memorable experience.
Shop Online or In-Store
If you're in Texas, there's no better place to shop for your Jack Daniel's Country Cocktails than Zipps Liquor. Our Texas liquor store chain stands out with its expansive stores brimming with an exquisite assortment of beer, wine, spirits, and mixers. Our collection boasts an impressive fusion of global sensations and local treasures, ensuring every Texan is spoiled for choice. Discover the unrivaled pleasure of great prices combined with an unparalleled selection.
With a vast selection of Jack Daniel's Country Cocktails, including the delightful Downhome Punch, Zipps Liquor ensures you never have to look far for your favorite flavor. Our knowledgeable staff is also there to guide you through your choices.
Conveniently shop online and select from the options of pickup or delivery. Alternatively, you can visit a nearby liquor store to indulge in all your beloved RTD beverages.
Jack Daniel's Country Cocktails – A Taste of Southern Elegance
Jack Daniel's Country Cocktails have established themselves as the go-to ready-to-drink beverages for those looking to savor a taste of the South. With their rich history, tantalizing variety, and reasonable calorie content, they're the perfect companion for any Texan affair. Just remember to sip responsibly and make the atmosphere as delightful as the drink in your hand.
As a parting shot, don't forget to visit your nearest liquor store or shop online for the finest selection of Jack Daniel's Country Cocktails. 🛒 Whether you're a fan of the classics or looking to try something new, Zipps Liquor has it all. Shop online and choose between pickup and delivery, or put on your cowboy boots and head to the nearest store. Y'all won't be disappointed! 🤠 Cheers!