With October in full swing, it's time to celebrate the spooky season right. If you've gone outside lately, you've probably seen Halloween take over local shops and department stores. As the weather cools down and people start contemplating their costumes, you have an opportunity to plan the kind of monster mash you want to throw this year. Whether planning an event or playing it lowkey on Halloween, don't go forward with bad-tasting beer. Welcome goblins and ghouls to your door with the best Halloween beer out there.
Bring in Ghosts and Ghouls With the Best Halloween Beer
If you want your celebration to be a hit, you need the right drinks to keep people hanging out. Even if your Halloween celebration is a little more low-key, it's an excellent time to enjoy yourself with high-quality beer from your favorite Zipps Liquor store.
America's brewing scene has become more pronounced over the last decade than ever before. As of 2020, there were over 300 breweries in Texas alone. When it comes to beer, you have access to an endless variety, including seasonal tastes, to make Halloween an event to remember. If you're interested in seasonal beer, Halloween-themed beer generally falls into one of these three categories.

Fall Lagers
Lager is a broad category of beer. While light lagers may not be as flavorful, darker lagers have a full, balanced taste. A lager tends to have a crisp, clean flavor compared to ale. The big difference between lager and ale is that lager uses a different type of yeast for fermentation.
Brown and Amber Ale
Darker ales taste better when the weather starts cooling. Generally, dark ales have a toasty flavor due to the roasted malts. If breweries use a dark malt, a dark beer is a result. Dark ales may have a chocolate or caramel element to the flavor. Rich flavors tend to be more prevalent during the autumn season.
Stouts and Porters
Stouts and porters are ale, but brewers roast the malts more than in dark ales. If you love heavier beers, you'll probably love porters and stouts. Chocolate and nutty flavors may feel comforting when you're fighting off the chill in the air. When it comes to stouts versus porters, there is no universal standard for the difference between them.
Top 10 Best Halloween-Themed Beers
If you want to elevate your beer game, we've curated a list of Halloween-themed beers to impress your guests. When it comes to seasonal beers, most breweries take advantage of spooky packaging and fall flavors. While our list only includes 10 of our favorite beers, your options are limitless.
1. BrewDog Hell Cat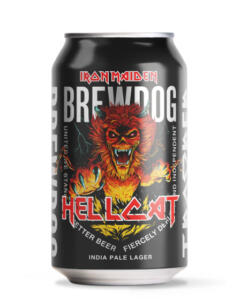 Have you been on a quest for the ultimate heavy-metal beer to rock your taste buds? Your search may have just ended with BrewDog Hell Cat, an India Pale Lager created in collaboration with none other than metal legends Iron Maiden. Offering a robust citrus flavor balanced with intense malt and hop notes, Hell Cat is a beer that captures the spirit of rock and roll while delivering a compelling taste experience. Released in the fall of 2021 as a limited-edition offering, this beer has quickly gained a reputation as a must-try for both beer aficionados and metal enthusiasts alike. Let's delve deeper into why Hell Cat is such an exciting addition to the craft beer scene.
BrewDog and Iron Maiden: A Collaboration of Giants
BrewDog, the Scottish craft brewery known for their audacious and high-quality beers, has teamed up with Iron Maiden, one of the most iconic heavy metal bands in history, to bring this special brew to life. The collaboration reflects a union of two powerhouses, each highly regarded in their respective fields. The result is Hell Cat, a beer as bold and iconic as the band it represents.
A Unique Style: India Pale Lager
One of the most intriguing aspects of Hell Cat is its classification as an India Pale Lager (IPL). Combining the hop-forward characteristics of an India Pale Ale (IPA) with the crispness of a lager, Hell Cat offers the best of both worlds. It's a hybrid style that appeals to those who love the bitterness and complexity of an IPA but crave the refreshing qualities of a lager.
Robust Citrus Flavor
The first thing you'll notice upon sipping Hell Cat is its strong citrus flavor. This zestiness adds a refreshing note that pairs beautifully with the beer's other robust elements, making it an invigorating option for various occasions, whether you're attending a concert or simply enjoying an evening with friends.
Intense Malt and Hops
Not to be overshadowed by its citrus undertones, Hell Cat is defined by its intense malt and hop profile. These elements bring depth and complexity to the beer, offering a layered taste experience that will keep you coming back for more. The hops provide a medium level of bitterness that balances out the malty richness, making Hell Cat a well-rounded choice for those who appreciate nuanced flavors.
Limited-Release Rarity
Adding to its allure is the fact that Hell Cat was released as a limited-edition offering. Its availability adds an element of exclusivity, making it a sought-after choice for both BrewDog and Iron Maiden fans. If you're looking for a beer that's as unique as it is delicious, Hell Cat should be on your radar.
2. Pumpkinator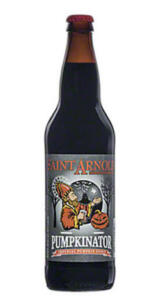 When it comes to capturing the essence of Halloween in a bottle, few beers do it as expertly as Pumpkinator, brought to you by the esteemed Saint Arnold Brewing Company. This imperial pumpkin stout is a symphony of flavors and aromas, offering a rich and complex profile that makes it an excellent choice for those who appreciate a full-flavored beer. Let's delve deeper into what makes Pumpkinator such an unforgettable Halloween beer.
A Culinary Masterpiece from Saint Arnold
Firstly, it's important to acknowledge the expertise behind Pumpkinator—Saint Arnold is a brewery known for their high-quality, inventive beers. Their dedication to craft is evident in every sip of this exceptional Halloween brew, which combines classic ingredients with innovative brewing techniques.
The Anatomy of an Imperial Pumpkin Stout
Pumpkinator is more than just another pumpkin-flavored beer; it's an imperial stout, which means it has a higher alcohol content and a deeper complexity than standard stouts. The 'imperial' label also signifies that it is brewed with more hops and malts, resulting in a robust, full-bodied flavor profile.
Flavor Complexity
One of the standout features of Pumpkinator is its intricate combination of caramel and black malts, two-row barley, and Liberty and Cascade hops. These elements bring together a richness that is uniquely satisfying.
But what really sets this Halloween beer apart is the presence of additional flavorings like molasses, spices, and brown sugar. The molasses adds a smoky sweetness that pairs exceptionally well with the natural flavors of pumpkin, while the brown sugar introduces a caramelized richness that complements the bitter undertones from the hops. Meanwhile, the spices offer a warming sensation, evoking the comforting aromas of autumn and making each sip feel like a festive occasion.
Ideal Pairings
Given its rich, complex profile, Pumpkinator pairs wonderfully with foods that can stand up to its flavors. Consider serving it with dark meats like duck or beef, or even with hearty stews and casseroles. For dessert, the strong flavor of the beer can handle equally strong desserts like a rich chocolate cake or a pecan pie.
A Halloween Tradition
Pumpkinator has become something of a seasonal tradition for many beer lovers, a brew eagerly anticipated as Halloween approaches. Its intricate flavor profile and quality craftsmanship make it more than just a beer; it's an experience that celebrates the complexities of the season.
3. Yumkin Pumpkin Ale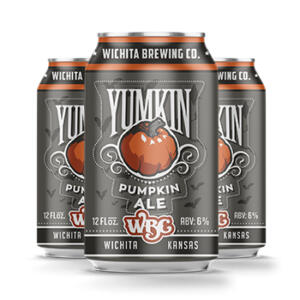 When you're looking for a Halloween beer that delivers the quintessential flavors of fall without overwhelming your palate, Yumkin Pumpkin Ale by Witchita Brew stands out as a top choice. This amber-colored ale offers a balanced, inviting profile that embodies the cozy, festive spirit of Halloween. Let's delve into the qualities that make Yumkin Pumpkin Ale an extraordinary addition to your Halloween celebration.
Craftsmanship from Witchita Brew
Firstly, it's essential to appreciate the artistry behind Yumkin Pumpkin Ale. Witchita Brew is renowned for their high-quality beers, and Yumkin is no exception. From the selection of ingredients to the brewing process, meticulous attention to detail ensures each bottle offers a premium experience.
A Harmonious Blend of Ingredients
What truly sets Yumkin apart is its harmonious blend of flavors, made possible by a carefully selected mix of ingredients. The beer's amber hue hints at its depth, while its pumpkin content creates a smooth, sweet base that pleases the palate.
A Spiced Spectacle
The pumpkin flavor alone would make Yumkin Pumpkin Ale a treat, but Witchita Brew takes it a step further by adding a medley of spices to the brew. Notes of allspice, cloves, cinnamon, and nutmeg gracefully combine to evoke the nostalgic sensations of autumn. These spices add complexity to the beer, transforming it into a liquid embodiment of a fall afternoon—cozy, warm, and inviting.
Pairing Possibilities
Yumkin Pumpkin Ale's smooth, sweet, and spiced profile makes it a highly versatile beer for food pairings. Its sweetness can offset the saltiness of savory dishes like roasted chicken or pork, while its spice content pairs wonderfully with traditional fall desserts like apple crisp or spiced cookies. If you're hosting a Halloween gathering, consider offering a flight of Yumkin with different food samples to allow your guests to explore its versatility.
Lighter yet Flavorful
One of the most appealing aspects of Yumkin Pumpkin Ale is its relatively lighter body compared to other seasonal brews. This makes it an excellent choice for those who want to enjoy the flavors of Halloween without the heaviness associated with stouts or overly malty beers. Its lighter profile also means it can be enjoyed throughout the evening, making it an ideal pick for extended Halloween festivities.
4. Bat Country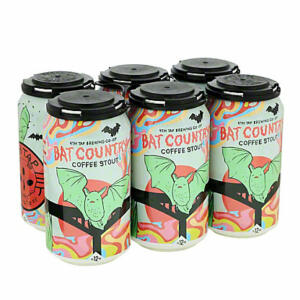 As the Halloween season unfolds, beer enthusiasts often seek options that not only align with the festivity but also provide a unique tasting experience. One such exceptional offering is Bat Country by 4th Tap Brewing. This light-bodied coffee stout promises a complex palate and a delightful fusion of flavors, making it an ideal choice for those looking to venture beyond traditional Halloween beers.
The Mastery of 4th Tap Brewing
4th Tap Brewing has already etched its name in the beer industry with several distinctive brews, including the aforementioned House of Torment. Continuing with its tradition of brewing excellence, 4th Tap has crafted Bat Country, a stout that's not merely a beverage but an experience in itself.
A Toasted Tale
Bat Country is unlike any standard stout; it greets you with a toasted flair that sets the tone for what's to come. This toasty character serves as a precursor to its more complex elements, offering a pleasant and inviting opening note that engages your senses from the first sip.
The Intricacies of Flavor
One of the most remarkable aspects of Bat Country is its meticulously balanced profile. The base combines bittersweet chocolate and malt, delivering richness that harmoniously blends with the beer's other elements. However, the true showstopper in this ensemble is the addition of Ethiopian Guji cold brew coffee. This premium coffee variant is renowned for its berry-like undertones, which bring a subtle, fruit-infused complexity to the stout.
A Symphony of Notes
Upon tasting, the first thing you'll notice is how the bittersweet chocolate and malt foundation pave the way for the Ethiopian Guji cold brew to shine. The hints of berry from the coffee complement the toasted chocolate taste in an almost poetic fashion, creating a nuanced flavor profile that is both unique and irresistibly delicious.
Pairing Perfection
Given its multifaceted character, Bat Country pairs wonderfully with a wide range of foods. Its chocolate and malt flavors make it a perfect complement to desserts like chocolate mousse or tiramisu, while the coffee notes allow it to pair elegantly with breakfast pastries or even savory dishes like barbecue or smoked meats.
5. Cygourd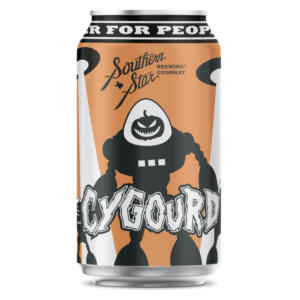 As autumn leaves begin to fall and the Halloween season approaches, beer enthusiasts often find themselves scouring the shelves for seasonal brews that capture the essence of this time of year. Among the plethora of options, Cygourd by Southern Star Brewing Company stands out as a top pick for those in search of a creamy, satisfying beer. Let's take a closer look at what makes Cygourd a must-have Halloween beer.
The Artistry of Southern Star Brewing Company
First and foremost, it's worth noting that Cygourd comes from the trusted stables of Southern Star Brewing Company, a brewery renowned for its commitment to quality and innovation. Known for a wide array of beers that cater to diverse palates, Southern Star brings its expertise to the Halloween beer arena with Cygourd.
A Unique Texture: Oatmeal-Infused
One of the most distinctive features of Cygourd is its oatmeal addition, which lends a creamy, full-bodied texture to the ale. This innovative choice sets it apart from many other seasonal offerings, as the oatmeal not only enhances mouthfeel but also adds a layer of complexity to the beer's flavor profile.
The Beauty of Dark Copper
Upon pouring, Cygourd reveals its dark copper color, a visual testament to its depth and richness. This hue invites drinkers to anticipate the intricate flavors awaiting them—a blend of caramel malts and subtle yet impactful spices.
Caramel Meets Pumpkin Spice
At its core, Cygourd is characterized by its caramel malt flavors, which offer a robust sweetness that pairs perfectly with autumnal foods and festivities. To further elevate the brew, a touch of pumpkin spice is added, resonating with the season's traditional palate. This delicate spicing ensures that Cygourd maintains its ale integrity while providing just enough seasonal flair to make it a quintessential Halloween beer.
Food Pairing Suggestions
Cygourd's complex profile, coupled with its creamy texture, makes it incredibly versatile when it comes to food pairings. It can easily accompany a hearty meat dish, or it can act as a complementary contrast to spicier fare. Moreover, the caramel malt and pumpkin spice elements make it a great pairing option for classic fall desserts like caramel apple pie or pumpkin cheesecake.
The Complete Autumnal Experience
What truly sets Cygourd apart is its ability to encapsulate the feel of autumn in a single sip. The creamy, full texture derived from oatmeal, the dark copper hue, and the perfect blend of caramel malt and pumpkin spice all culminate in a beer that is as satisfying as it is complex.
6. Dogfish Head Punkin Ale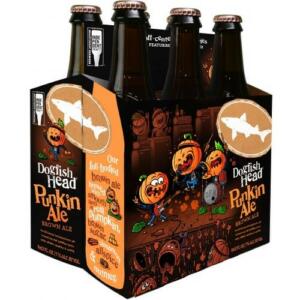 As the Halloween season approaches, it's natural to look for brews that capture the festive atmosphere and embody the essence of the fall season. Enter Dogfish Head's Punkin Ale—a full-bodied brown ale that seamlessly marries authentic pumpkin flavors with a harmonious blend of brown sugar and spices. This brew not only satisfies the palate but also complements the crisp air of Halloween night. Let's explore the elements that make Punkin Ale a top contender for your Halloween celebrations.
The Pedigree of Dogfish Head Brewery
Dogfish Head Brewery needs little introduction in the craft beer community. Known for their experimentation and high-quality brews, Dogfish has a reputation for pushing the boundaries of beer-making. Their Punkin Ale is no exception, delivering a beverage that epitomizes seasonal excellence.
Real Pumpkin, Real Flavor
What sets Punkin Ale apart is its dedication to using real pumpkin meat in the brewing process. This choice infuses the beer with a solid, authentic pumpkin flavor, distinguishing it from brews that rely solely on artificial flavors or pumpkin spice alone. The use of genuine pumpkin gives Punkin Ale its distinctive, robust taste that speaks to its overall quality.
A Symphony of Brown Sugar and Spices
Adding to its authentic pumpkin base, Punkin Ale is enriched with brown sugar and a blend of spices that together create a cozy, enveloping taste experience. The brown sugar lends a molasses-like sweetness that counters the earthiness of the pumpkin, while the spices—reminiscent of cinnamon, nutmeg, and allspice—add warmth and complexity to the brew.
Full-Bodied Satisfaction
Punkin Ale is a brown ale, which means it comes with a fuller body that satisfies with each sip. This full-bodied nature makes it the perfect companion for the chilly winds of Halloween night, offering a comforting warmth that you can wrap your hands and taste buds around.
Food Pairing Excellence
The complexity of Punkin Ale makes it a versatile choice for food pairings. Its robust pumpkin and spice flavors naturally complement hearty dishes such as stews or roasted meats, while its brown sugar sweetness can offset the spiciness in foods like chili or spicy barbecue. Furthermore, its warm, comforting notes make it a fitting accompaniment to autumn desserts like pumpkin pie or apple crumble.
Perfect for Halloween and Beyond
Though it's an excellent choice for Halloween festivities, Punkin Ale's rich blend of flavors also makes it a beer that can be enjoyed throughout the entire fall season. Whether you're by a bonfire, handing out candy, or simply enjoying a quiet night in, this beer captures the comforting essence of autumn in a glass.
7. Dead Guy Ale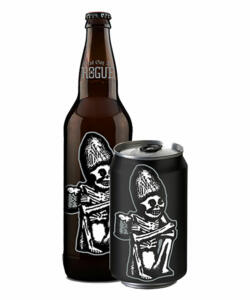 When it comes to Halloween-themed beers, Rogue's Dead Guy Ale stands as one of the most iconic in the lineup. Its arresting name and equally captivating flavors make it a prime choice for those looking to elevate their Halloween celebrations. What sets Dead Guy Ale apart is its malt-forward profile, embellished with nuanced notes of caramel and toffee. Styled in the tradition of a German Maibock, this ale offers a delightful blend of richness and complexity. Let's delve into the attributes that make Dead Guy Ale a beloved pick for Halloween and beyond.
The Pioneering Spirit of Rogue Brewery
Originating from Rogue Brewery, known for its innovation and willingness to defy beer conventions, Dead Guy Ale is crafted with the same pioneering spirit. The brewery's commitment to quality and uniqueness is evident in this exceptional brew, lending it a distinct charm that captures the essence of Halloween festivities.
A Malt-Forward Experience
The standout feature of Dead Guy Ale is its malt-forward character. While many beers tend to emphasize hop bitterness or fruity undertones, Dead Guy Ale centers its flavor profile around the richness of malt. This malt-centric approach results in a beer that is robust and fulfilling, serving as a tribute to the Maibock style it emulates.
The Intricacies of Caramel and Toffee
Complementing its malt foundation, Dead Guy Ale is embellished with the sweet nuances of caramel and toffee. These elements add layers of complexity to the ale, making each sip a multi-faceted experience. The caramel notes bring a certain velvety sweetness that blends perfectly with the ale's malty backbone, while the toffee adds a buttery richness that deepens the flavor profile.
A Radiant Honey Color
Upon pouring, Dead Guy Ale reveals its visually appealing honey color, indicative of its malty richness and the delicate flavors that lie within. This inviting hue adds an extra layer of sensory enjoyment, setting the stage for the complex flavors that follow.
Food Pairing Versatility
Given its malt-forward nature and sweet undertones, Dead Guy Ale is a versatile option when it comes to food pairings. Its rich, robust flavors make it an ideal match for hearty foods like grilled meats and stews. At the same time, its caramel and toffee notes offer an excellent counterpoint to spicier dishes or can even be paired with desserts like bread pudding or apple tart.
A Halloween Favorite
Though a beer that can be enjoyed year-round, Dead Guy Ale is particularly fitting for Halloween. Its thematic name and robust flavors align well with the spirit of the season, offering an experience that is as thematic as it is delicious.
8. Monk's Blood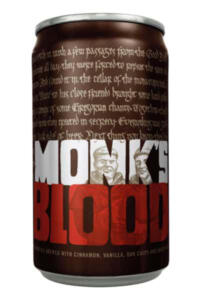 When it comes to capturing the flavors and atmosphere of Halloween and autumn, few beers do it as remarkably as Monk's Blood by 21st Amendment Brewery. This distinctive dark brew goes beyond the typical pumpkin or spiced ale profiles to offer a rich, nourishing tapestry of unique ingredients, from cinnamon and dried figs to oak chips and vanilla. Crafted with a blend of complex malts, Monk's Blood stands as a delightful paradox: both a contemplative sipper and a crowd-pleaser. Let's delve into what makes this beer an exceptional choice for Halloween and autumnal festivities.
The Craftsmanship of 21st Amendment Brewery
San Francisco-based 21st Amendment Brewery is revered for its dedication to craft, quality, and innovation. Their portfolio is varied, but each brew carries the brewery's signature touch of creativity. Monk's Blood is a shining example of their ability to combine unconventional flavors into a harmonious blend.
A Unique Flavor Palette
Unlike many seasonal brews that rely on pumpkin or apple notes, Monk's Blood offers a more exotic bouquet of flavors. Cinnamon brings a familiar autumnal warmth, while dried figs add a touch of natural sweetness and complexity. Vanilla provides a smoothing counterpoint, and oak chips contribute a subtle woodiness that rounds out the profile.
Complex Malts for a Rich Experience
Monk's Blood features an array of European and specialty malts, including Pilsner, Vienna, Aromatic, Flaked Oats, Flaked Wheat, Caramunic, and Special B. This intricate blend results in a beer that is multi-dimensional in flavor and rich in mouthfeel. The malts contribute caramel and biscuity undertones, adding layers to an already complex brew.
The Essence of a Dark Brew
Visually, Monk's Blood is as dark and mysterious as its name suggests, offering a rich, deep hue that's evocative of the season. This dark coloring is indicative of the richness contained within, inviting drinkers to savor its complexity and depth.
Nourishing and Heartwarming
Not only is Monk's Blood rich in flavor, but it also offers a nourishing quality, making it ideal for sipping on a crisp Halloween evening. Whether you're hosting a Halloween gathering or enjoying a quiet night by the fire, this beer provides a heartwarming experience that encapsulates the essence of the season.
Versatile Food Pairings
Due to its rich and complex flavor profile, Monk's Blood pairs well with a variety of foods. Its dark, malty base makes it excellent with hearty meats and stews, while its fruit and spice notes can accentuate the flavors in dishes like Moroccan lamb or spiced desserts.
9. Nosferatu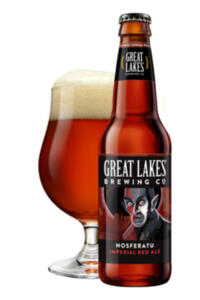 As Halloween approaches, those in search of the perfect beer to accompany the season's festivities will find a true contender in Nosferatu, an imperial red ale by Great Lakes Brewing Co. Named after the iconic vampire from classic horror cinema, Nosferatu stands out as a brew that, like its namesake, has a compelling bite, thanks to its robust hop profile and roasted malt flavors. Let's delve into why Nosferatu is not just another seasonal offering, but a top contender for the title of the best Halloween beer.
The Excellence of Great Lakes Brewing Co.
Based in Cleveland, Ohio, Great Lakes Brewing Co. has a reputation for producing quality beers that are both innovative and true to traditional brewing methods. Their Nosferatu Imperial Red IPA is a testament to this, offering a well-balanced, highly flavorful beer that captures the Halloween spirit in a unique way.
Roasted Malt Meets Bitter Bite
One of the standout characteristics of Nosferatu is its remarkable balance between roasted malt flavor and hop-driven bitterness. The roasted malt lends a warmth and richness that is perfect for autumn, while the hops introduce a resounding bite, akin to the mythical creature the beer is named after.
The Power of the Imperial Red Beer
Imperial Red beers are known for their higher alcohol content and complex flavors, and Nosferatu is no exception. The "imperial" designation signifies that this is a brew with depth and strength, aspects that are enhanced by its intricate blend of roasted malts and hops. It's a beer that not only satisfies but challenges the palate with its layered taste profile.
Stunning Hop Flavors
What really brings Nosferatu to life, however, are its stunning hop flavors. These not only provide a bitter counterpoint to the roasted malt but also introduce nuances of pine, citrus, and even tropical fruits. This complexity makes each sip a new experience and allows the beer to pair wonderfully with a variety of Halloween treats and autumnal dishes.
A True Halloween Aesthetic
From its name to its flavor profile, Nosferatu is a beer that embodies the Halloween aesthetic. Even its color—a deep, reddish-amber hue—seems to be crafted specifically for a spooky October evening. Whether you're hosting a Halloween party or simply enjoying a night of horror movies, this beer adds a unique and fitting atmosphere to the occasion.
Perfect Pairings
Nosferatu's complex flavors make it an excellent choice for food pairings. The roasted malt and hop bitterness make it a great companion for grilled meats or hearty stews, while its more nuanced flavors can enhance the experience of spiced or smoked dishes.
10. Zombie Dust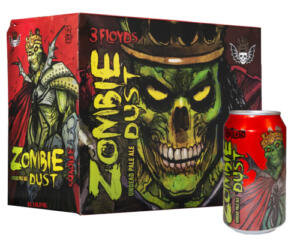 If you're on the hunt for a beer that stands out in the sea of dark, spiced ales commonly associated with Halloween, look no further than Zombie Dust, a pale ale by Three Floyds Brewing Co. Known for its balanced bitterness, malt backbone, and intriguing notes of fruit and pine, Zombie Dust adds a burst of brightness to your Halloween festivities with its deep golden hue. Here, we'll explore why this pale ale is a must-try option for those looking to diversify their Halloween beer repertoire.
Three Floyds Brewing Co.: A Legacy of Quality
Based in Munster, Indiana, Three Floyds Brewing Co. has garnered a loyal following for its eclectic and expertly crafted brews. Known for their commitment to quality and innovation, they have created Zombie Dust as a testament to their ability to deliver exceptional, balanced beers.
Balanced Bitterness and Malt
One of the hallmarks of Zombie Dust is its striking balance between bitterness and malt. The hops deliver a crisp, slightly bitter profile that is skillfully offset by a malt backbone. This balance makes Zombie Dust not just a beer for hop enthusiasts, but also for those who appreciate the fuller, rounded flavors provided by malt.
Complex Flavor Profile
The beer's complexity doesn't end with its balance of bitterness and malt; Zombie Dust also incorporates intriguing fruity and pine flavors. These additional notes make each sip a layered experience, offering a complexity that belies its classification as a pale ale. Whether you're a beer connoisseur or a casual drinker, you'll find something to appreciate in this multi-dimensional brew.
A Deep Golden Hue
While dark ales often dominate the Halloween scene, Zombie Dust breaks the mold with its deep golden color. The hue not only makes it stand out visually among darker offerings but also hints at the brightness and crispness of the flavors within. This unique color palette makes Zombie Dust an eye-catching choice for any Halloween gathering.
Pairing Possibilities
The balanced and complex profile of Zombie Dust makes it incredibly versatile when it comes to food pairings. Its bitterness pairs well with salty and fried foods, while its malt and fruity notes can complement richer, savory dishes. Consider serving it alongside appetizers like salty pretzels or main courses like grilled pork or chicken.
Give Your Guests the Goosebumps With the Best Halloween Beer
When planning your Halloween event, everything should fit your theme. Your decor, the costumes, the music should all be representative of October 31st. If you don't have the best Halloween beer at your event, then you're doing something wrong. We understand the importance of keeping your guests satisfied. You don't want to go down in history as the party with bad beer. Contact us at Zipps Liquor for more information on wholesale liquor and hosting parties, or visit your nearby Zipps Liquor Store for an in-person recommendation.