With October in full swing, it's time to celebrate the spooky season right. If you've gone outside lately, you've probably seen Halloween take over local shops and department stores. As the weather cools down and people start contemplating their costumes, you have an opportunity to plan the kind of monster mash you want to throw this year. Whether planning an event or playing it lowkey on Halloween, don't go forward with bad-tasting beer. Welcome goblins and ghouls to your door with the best Halloween beer out there.
Bring in Ghosts and Ghouls With the Best Halloween Beer
If you want your celebration to be a hit, you need the right drinks to keep people hanging out. Even if your Halloween celebration is a little more low-key, it's an excellent time to enjoy yourself with high-quality beer from your favorite Zipps Liquor store.
America's brewing scene has become more pronounced over the last decade than ever before. As of 2020, there were over 300 breweries in Texas alone. When it comes to beer, you have access to an endless variety, including seasonal tastes, to make Halloween an event to remember. If you're interested in seasonal beer, Halloween-themed beer generally falls into one of these three categories.

Fall Lagers
Lager is a broad category of beer. While light lagers may not be as flavorful, darker lagers have a full, balanced taste. A lager tends to have a crisp, clean flavor compared to ale. The big difference between lager and ale is that lager uses a different type of yeast for fermentation.
Brown and Amber Ale
Darker ales taste better when the weather starts cooling. Generally, dark ales have a toasty flavor due to the roasted malts. If breweries use a dark malt, a dark beer is a result. Dark ales may have a chocolate or caramel element to the flavor. Rich flavors tend to be more prevalent during the autumn season.
Stouts and Porters
Stouts and porters are ale, but brewers roast the malts more than in dark ales. If you love heavier beers, you'll probably love porters and stouts. Chocolate and nutty flavors may feel comforting when you're fighting off the chill in the air. When it comes to stouts versus porters, there is no universal standard for the difference between them.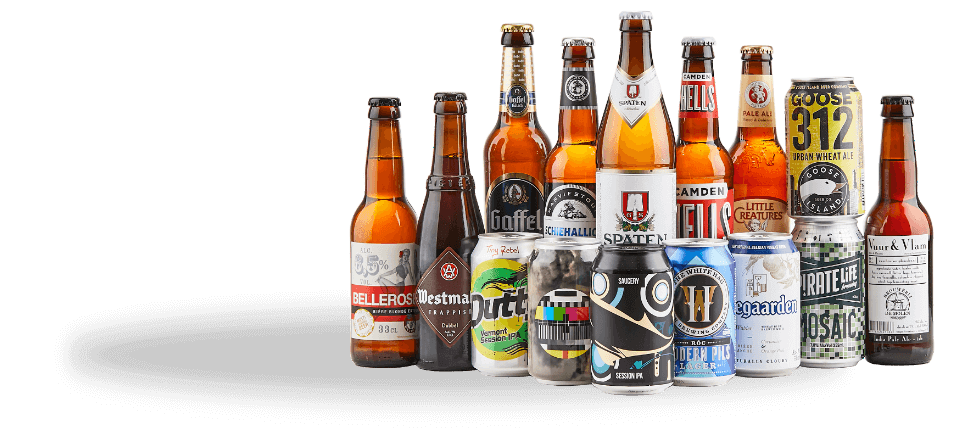 Top 10 Best Halloween-Themed Beers
If you want to elevate your beer game, we've curated a list of Halloween-themed beers to impress your guests. When it comes to seasonal beers, most breweries take advantage of spooky packaging and fall flavors. While our list only includes 10 of our favorite beers, your options are limitless.
1. House of Torment
House of Torment is a pumpkin ale created by 4th Tap Brewing in collaboration with Austin's House of Torment haunted houses. If you don't want a heavy pumpkin ale, House of Torment is a crisp, lighter ale with a malty base and pumpkin spice notes. Be the life of the party, without all of the heaviness.
2. Pumpkinator
Pumpkinator is brought to us by Saint Arnold. It is a full-flavor spiced black beer. Considered an imperial pumpkin stout, it combines caramel, black malts, two-row and Liberty and Cascade hops. To complement the pumpkin flavor, you'll notice a mix of molasses, spices and brown sugar.
3. Yumkin Pumpkin Ale
Yumkin Pumpkin Ale by Witchita Brew is an amber-colored ale. The amount of pumpkin in the ale creates a smooth, sweet flavor. In addition, to the pumpkin flavor, Yumkin includes allspice, cloves, cinnamon and nutmeg.
4. Bat Country
Bat Country by 4th Tap will be a hit if you like a toasted, light-bodied coffee stout. The beer has a bittersweet chocolate and malt base, with Ethiopian Guji cold brew. The coffee has hints of berry, complementing the toasted chocolate taste.
5. Cygourd
Cygourd, by Southern Star Brewing Company, is one of the most satisfying beers on the list. With the addition of oatmeal, it is creamy and full. The ale is a dark copper ale with caramel malt flavors. In honor of fall tradition, it includes a touch of pumpkin spice.
6. Dogfish Head Punkin Ale
Dogfish's Punkin Ale is a full-bodied brown ale. Dogfish brews Punkin Ale with real pumpkin meat for a solid pumpkin flavor. In addition, brown sugar and spices create a cozy blend of tastes. Punkin Ale complements the chill in the air on Halloween night.
7. Dead Guy Ale
Rogue's Dead Guy Ale is one of the most popular Halloween-themed beers. This is a malt-forward beer with caramel and toffee notes. Dead Guy is a honey color, a malty ale styled in the style of a German Maibock.
8. Monk's Blood
When you think of Halloween and autumn, what flavors stand out to you? Monk's Blood, by 21st Amendment Brewery, includes cinnamon, dried figs, oak chips and vanilla in the blend. The malts are European Pilsner, Vienna, Aromatic, Flaked Oats, Flaked Weak, Caramunic and Special B. Monk's Blood is a dark brew designed to be rich and nourishing.
9. Nosferatu
Great Lakes Brewing Co. took a classic horror icon and created a contender for the best Halloween beer. The imperial red IPA has a roasted malt flavor and bitter taste. Like Nosferatu, it packs a bite with the stunning hop flavors.
10. Zombie Dust
The Three Floyds Brewing Co. is responsible for Zombie Dust. It is a pale ale with balanced bitterness, malt, fruity and pine flavors. With a deep golden color, it will stand out amongst the dark ales on the list.
Give Your Guests the Goosebumps With the Best Halloween Beer
When planning your Halloween event, everything should fit your theme. Your decor, the costumes, the music should all be representative of October 31st. If you don't have the best Halloween beer at your event, then you're doing something wrong. We understand the importance of keeping your guests satisfied. You don't want to go down in history as the party with bad beer. Contact us at Zipps Liquor for more information on wholesale liquor and hosting parties, or visit your nearby Zipps Liquor Store for an in-person recommendation.