Soju cocktails have become increasingly popular as more people discover the versatile and delightful taste of this Korean spirit. With its clean and smooth flavor, soju is an excellent base for creating refreshing and diverse cocktail recipes. From fruit-inspired concoctions to classic Korean ingredients, there's a soju cocktail to suit every preference.
We know that the perfect soju cocktail can elevate a gathering or simply be a delightful treat after a long day. In this article, we'll explore popular soju cocktails and give you some helpful tips on how to prepare them easily at home. We'll also recommend some essential cocktail preparation equipment to make your soju cocktail experience even better. As a bonus, we'll uncover some special ingredient soju cocktails that will truly tantalize your taste buds.
Key Takeaways ✨
Soju serves as a versatile and delightful base for various cocktail recipes.
Cocktail enthusiasts can enjoy a range of refreshing fruit-based and traditional Korean soju cocktails.
Equip yourself with proper cocktail preparation tools and shop for quality ingredients to enhance your soju cocktail experience.
Overview of Soju
Soju is a popular Korean spirit known for its smooth and clean taste. Originating from Korea, it has gained worldwide popularity as a versatile and approachable alcoholic beverage. The alcohol content of soju typically ranges from 16.8% to 53% ABV, making it a relatively strong drink.
We often find soju at liquor stores and Korean establishments, as it is the most consumed alcohol in Korea. Its mild flavor makes it an excellent choice for both newcomers and experienced drinkers, as well as a key ingredient in various cocktail recipes.
Since soju is a clear and neutral spirit, it can easily be mixed with various flavors to create delicious and unique cocktails. Some popular soju cocktails include the Soju Yakult, Korean Screwdriver, and Soju Ginger Shandy, but endless possibilities exist.
If you're looking to experiment with soju-based cocktails, we recommend stopping by a liquor store like Zipps Liquor to grab a bottle of soju and start your mixology journey with this versatile and iconic Korean spirit. So, let's raise our glasses and toast to the wonderful world of soju! 🥂
Popular Soju Cocktails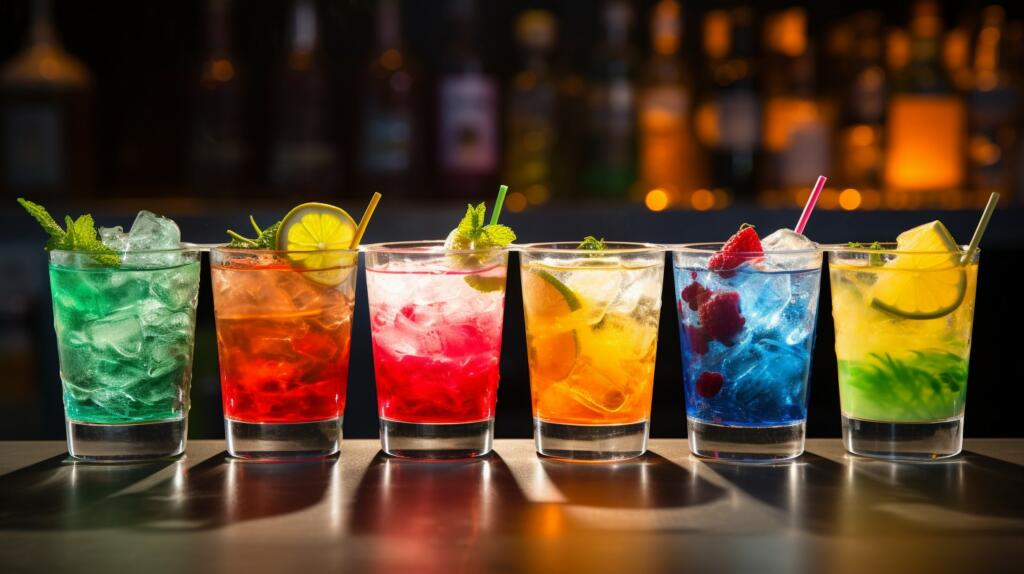 Soju, a popular Korean spirit, has increasingly gained international attention for its versatility and smooth taste. With a multitude of flavored soju available on the market and a simple mixing process, soju cocktails have become a trendy choice for those seeking new and exciting drinks. In this section, we will provide a brief introduction to popular soju cocktails and their ingredients, preparation times, and mixing instructions. So, let's dive in, and don't hesitate to visit your local liquor store or shop at Zipps Liquor to stock up on soju and other necessary ingredients! 🍹
Strawberry Soju Cocktail
The Strawberry Soju Cocktail is a delightful fusion of strawberry soju and Calpico, a fruity still soft drink that is a favorite in South Korea. This tantalizing cocktail embodies a refreshing taste that's perfect for summer gatherings.
Ingredients
2 ounces strawberry soju
4 ounces Calpico
Ice cubes
Preparation
Time: 5 minutes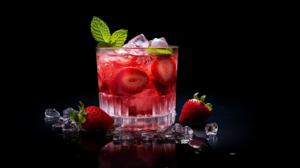 Preparation Steps:
Fill a glass with ice cubes.
Pour the strawberry soju over the ice.
Top with Calpico.
Mixing
Gently stir the mixture to combine the flavors.
Serving
Serve immediately, garnished with a fresh strawberry slice if desired.
Yogurt Soju
Yogurt Soju is a popular Korean drink that beautifully combines the flavors of soju, Yakult, or other cultured milk drinks, and Sprite. This creamy, fizzy blend is both unique and satisfying.
Ingredients
2 ounces soju
2 ounces Yakult (or similar cultured milk drink)
2 ounces Sprite
Ice cubes
Preparation
Time: 5 minutes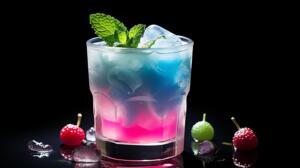 Preparation Steps:
Fill a glass with ice cubes.
Pour the soju into the glass.
Add the Yakult or cultured milk drink.
Top with Sprite.
Mixing
Stir the mixture gently to combine.
Serving
Serve chilled with a lemon slice as garnish.
Watermelon Soju (Subak Soju)
Subak Soju is a refreshing take on soju cocktails, featuring a perfect blend of soju and fresh watermelon juice. Garnished with small watermelon balls, it's a summertime favorite that captures the essence of tropical enjoyment.
Ingredients
2 ounces soju
4 ounces fresh watermelon juice
Small watermelon balls for garnish
Ice cubes
Preparation
Time: 10 minutes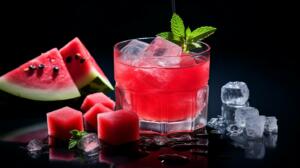 Preparation Steps:
Fill a glass with ice cubes.
Pour the soju over the ice.
Add fresh watermelon juice.
Garnish with small watermelon balls.
Mixing
Gently stir the mixture to integrate the flavors.
Serving
Serve chilled, ideally in a glass rimmed with salt or sugar, if desired.
Refreshing Combos Using Fruits
Soju cocktails have gained immense popularity because of their versatility and delicious taste. Adding various fruits only enhances the refreshing and delightful nature of these drinks.
One amazing fruit-based soju cocktail is a strawberry and lemon-infused soju cocktail. Cut strawberries and lemon into slices, place them in a pitcher with sugar, ice, and soju, and let it sit for 3 – 5 days in the fridge. This drink is perfect as it strikes a balance between sweet, sour, and bitter flavors.
Another great option is the watermelon soju cocktail, known as Subak Soju. This refreshing drink combines soju with fresh watermelon juice, creating a perfect summer beverage.
Speaking of summer, pineapple and soju make a fantastic pair! Creating a pineapple soju cocktail is as simple as combining soju, pineapple juice, and a bit of lime. Add some ice, stir, and you'll have a tropical delight in a glass. Don't forget to pop by your local liquor store to grab your bottle of soju.
Orange juice is another excellent mixer for soju cocktails. Mix soju, orange juice, and a touch of lime for a bright and zesty drink that is surprisingly refreshing. Feel free to experiment with other citrus fruits like grapefruit or lemon as well.
If you're in the mood for a creamier, fruity cocktail, try the Mango Melona Soju Cocktail. It uses melted mango ice cream bars and mango soju to create an exquisite blend of flavors that is perfect for any occasion.
A raspberry soju cocktail is yet another delightful choice. Muddle raspberries, add soju, lime, and a splash of soda, and you have a gorgeous, fruity cocktail that'll impress anyone. 🍹
When crafting these refreshing fruit-based soju cocktails, we recommend experimenting with different combinations of ingredients to create your perfect drink. And if you ever need to pick up some soju or other ingredients, don't hesitate to stop by Zipps Liquor for all your needs. Enjoy!
Traditional Korean Soju Cocktails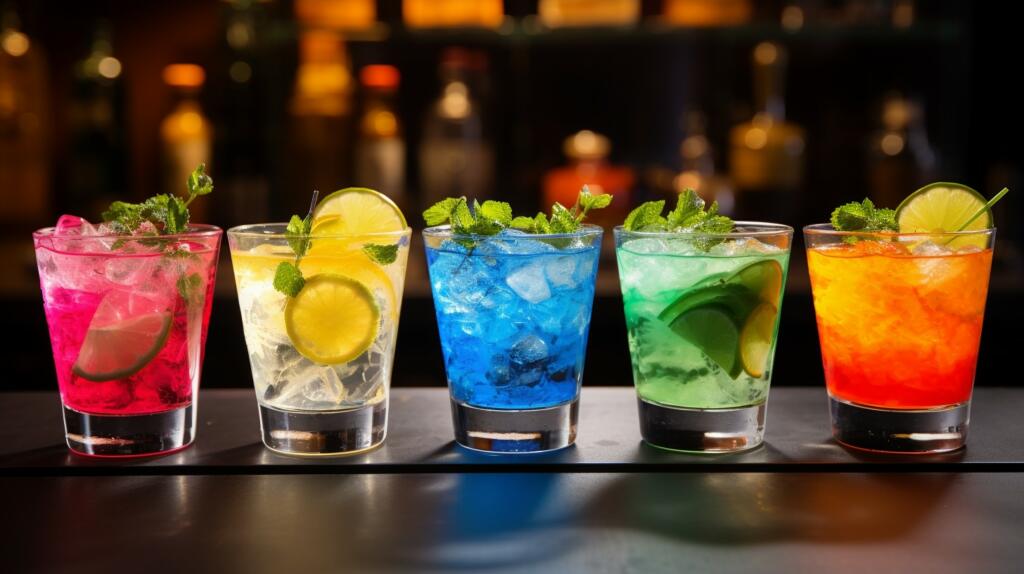 Korean cuisine is globally renowned for its unique flavors and ingredients. One of the most popular beverages in Korea is Soju, a clear distilled spirit traditionally made from rice, wheat, or barley. We have curated a list of Korean-inspired Soju cocktails that will let you experience these flavors in an entirely new way, and maybe inspire you to try making some at home or visit your local liquor store. 🍹
Remember that you can always find all the necessary ingredients at your local liquor store such as Zipps Liquor, and don't hesitate to get creative with your concoctions! 좋은 하루 되세요! (Have a great day!) 🇰🇷
Korean Yogurt Soju Cocktail
This popular Soju cocktail recipe consists of Soju, Yakult, and Sprite, creating a creamy and fizzy drink that is perfect for summer evenings. It is not only delicious but also refreshing and easy to make. 😉
Seoul Mule
A twist on the classic Moscow Mule, the Seoul Mule replaces vodka with Soju for a more Korean flavor. To make this cocktail, simply mix Soju, ginger beer, and freshly squeezed lime juice. Serve it in a copper mug for the full experience and enjoy!
Korean Screwdriver
The Korean Screwdriver is a creative spin on the classic screwdriver recipe. For this, mix Soju with orange juice and serve over ice. It's a fruity and refreshing drink, perfect for a warm day or a fun night out. You can grab the ingredients at Zipps Liquor and impress your friends with this easy cocktail.
Somaek
Somaek is a famous Korean cocktail made by mixing Soju and beer. The name itself is derived from the words "Soju" and "Maekju" (Korean word for beer). Pour Soju into a glass and top it off with beer, usually with a 1:3 ratio. The result is a refreshing and bubbly beverage that is perfect for a casual gathering or a night out at the bars.
Cojinganmek
Cojinganmek is a unique and potent combination of Soju, beer, and coke. The intriguing blend of flavors from the individual drinks adds a layer of complexity to this cocktail that will tantalize your taste buds. It's perfect for a wild night or a fun game of "Kings" with friends.
Shop your ingredients at Zipps Liquor
When it comes to crafting the perfect Soju cocktail, having the right ingredients is essential. That's where Zipps Liquor comes in! At our liquor store, we offer a wide selection of ingredients to create a variety of Soju cocktail recipes, from traditional blends to modern twists.
Finding the ideal liquor store for all your cocktail-making needs can be challenging, but look no further than Zipps Liquor. Whether you're shopping online or searching for a nearby liquor store, our goal is to make life easier for those looking to enjoy a delicious Soju cocktail. 😊
At Zipps Liquor, we pride ourselves on our extensive range of international and local brands, available at great prices. Our selection not only includes Soju but also the mixers and garnishes that will elevate your Soju cocktail experience 🍹.
Why choose Zipps Liquor? 🏆
Awarded: We've been proudly awarded the title of Retailer Of The Year in Texas by ABL, demonstrating our commitment to customer satisfaction and product excellence.
Convenience: Shop online and choose between pickup and delivery, or visit your nearby liquor store in Texas to buy all your favorite beverages.
Expertise: Our knowledgeable staff can help you navigate the world of Soju cocktails and recommend the best products to suit your taste.
We invite you to explore our range of beverages at Zipps Liquor to stock up for your next Soju cocktail party. Give your taste buds a treat and embark on a journey of flavor with delicious Soju cocktail recipes at the ready.
To start crafting your perfect Soju cocktail, shop online or in-store at Zipps Liquor.