Celebrating women should be an everyday event, but once a year, Women's Equality Day allows us to not only celebrate the powerful women in history but also the inspiring women in our lives.
From the incredible women who have fought for our rights, to the strong women who have broken down barriers, to the incredible women who make up our families and communities, Women's Equality Day is a time to reflect on how far we've come and how far we still have to go.
Whether you want to attend a Rights Rally or stay home and raise a glass to the important women in your life, there are many ways to mark the occasion. You may even like to get together with your loved ones to celebrate this day.
Check out our liquor stores and plan for a great celebration.
What Is Women's Equality Day?
Women's Equality Day is the day we celebrate the passage of the 19th Amendment, granting women the right to vote. Before this, women were treated as second-class citizens without the rights of male citizens.
Women began the fight for the right to vote as early as 1848, with the First Women's Rights Convention. It would be a long battle for women until the right to vote was granted on August 18, 1920. In 1971, congress designated August 26 as Women's Equality Day.
How Can You Celebrate Women's Equality Day?
The purpose of Women's Equality Day is to empower and uplift women. It's a time to be grateful for influential women, to support women's businesses, and to celebrate how far women have progressed in the last 100 years.
When it comes to how celebrating, the sky is the limit. You can choose to host a formal event, a small gathering of friends and family, or spend the day at a Women's Rights Rally.
Special Outings
Getting your friends, colleagues, or family together for a party can be complicated. You have to consider everyone's schedules and find an ideal time and place for everyone to get together. When you set a date for August 26, you all have time to make plans or reservations.
Consider a night in the town. Go to your favorite restaurants, visit a museum, or prepare a picnic in the park. The sky is the limit, and you don't have to stay home to indulge in a celebration.
Women's Equality Day Party
Host a party at home, at the office, or in any other venue that allows large gatherings of people. Determine where you want to host the party and how many people you can invite. Next, think about the theme.
For Women's Equality Day, you may want your theme to revolve around powerful women. Figure out your budget and arrange entertainment. Entertainment may include photo booths, music, buffets, movies, and games. Don't forget about snacks and drinks!

Top 5 Activities for Women's Equality Day
When planning your event, make a list of different fun women's activities you want to bring to your party. Think about the interests of the party-goers and prepare a celebration everyone will love.
Dancing
What is a party without dancing? Whether you choose to have an indoor soiree or a bonfire night in the backyard, a little music goes a long way. If you want a little more structured fun, consider hiring a dance teacher or taking dance classes with the other ladies in your life.
Other ideas for dancing include:
Dancing video games

Social media dances

Line dances
The main idea is to have fun and get your bodies moving. Trivia Games
If you like gameplay, consider trivia games as a way to keep the night going. Trivia games can bring a lot of laughs and good conversation. If you want to spice up the trivia game, add some classy drinks to the mix and create your own Women's Equality Day games.
For example, try to name some of the women who said these Women's Equality Day quotes:
"You may have to fight a battle more than once to win it."

"The future depends entirely on what each of us does every day; a movement is only people moving."

"No one can make you feel inferior without your consent."

"When there are no ceilings, the sky's the limit."
Choose questions that revolve around important moments for women throughout history or essential figures in both modern and historical times.
Karaoke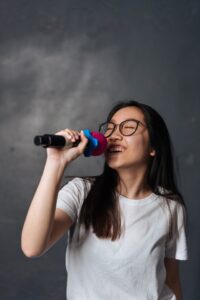 Karaoke is always a hit at every celebration. It doesn't matter if you're throwing a small party at home, a picnic, or an office party. Karaoke can keep guests occupied throughout the event. If you don't have a karaoke machine, that's okay. Your laptop and sound system can be turned into an ideal karaoke machine.
Since this is a Women's Equality Day party, keep your list of musicians narrowed down to women in the industry. Celebrate not only songs about powerful women but songs from the singers who rose to the top in the music industry.
Need ideas? You could start with "Girl on Fire", by Alicia Keys, or "Run The World", by Beyonce.
Mixology Classes
Have you and your friends always wanted to learn how to make your cocktails? Even if you know how to churn out a few, attending a mixology class allows you to learn how to mix drinks and will enable you to enjoy them too.
You don't always have to leave the party to attend a class either. There are various classes hosted online, so you and your party can set up in your kitchen and learn the art of mixology.
Private Chef Experience
If you're having a party at home, consider giving your friends the private chef experience. When you hire a private chef, you and your friends enjoy indulging in delicious, classy courses courtesy of a professional cook. When choosing a menu for the evening, consider the number of people at the party. Large parties may need multiple options to cater to everyone's tastes.
With the menu, consider the types of alcohol that may pair best with the food. For example, chardonnay pairs with salmon, while cabernet pairs with red meats. If you have a large event, you can use our Event Planner to order alcohol in bulk that will serve the entire party.
Check your nearest liquor store in Texas for the beverage stock you need for the party.
Celebrate Women With Help From Zipps Liquor
At Zipps Liquor, we are your one-stop shop for party essentials. We not only provide you with the alcohol but also with cups, mixers, and garnishes. And if you need help throwing the ultimate bash, our party planner is always available to assist you.
Whether you're looking for a specific brand or type of alcohol or just want to browse our selection, we've got you covered. We have a wide variety of beer, wine, and spirits from all over the world, so you're sure to find what you're looking for. If you need assistance, our knowledgeable staff will be more than happy to help you find the perfect drink for your event.
So if you're planning a party to celebrate Women's Equality Day and need a liquor store that can provide everything you need, make Zipps Liquor your first stop. We'll make sure your party is one to remember! Contact us today to learn more about how we can supply your party.