Punch is a perfect beverage for any occasion, whether it's a casual get-together or a formal event. These recipes have been carefully selected and tested to ensure that they are delicious and easy to make. So gather your ingredients, invite your friends and family, and let's get ready to mix up some delicious punch!
Find out three of the most popular punch recipes you need to make at home ASAP. These recipes will surely excite your taste buds and keep you wanting more. But, fair warning: once you taste them, you'll want to make them over and over!
#1 Grinch Punch
Starting off with a holiday special: the Grinch Punch. Inspired by Dr. Seuss' iconic character, the Grinch, this beverage is vibrantly green without a nasty attitude.
Of course, you can choose to do away with the booze (especially if you have kiddos around), but if you want to make this drink a little more exciting, a splash of vodka will do the trick.
Ingredients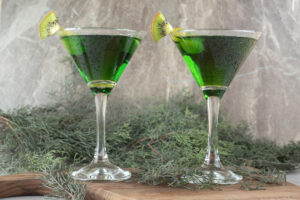 Before getting started, you need to gather up your ingredients, which are:
2 packets of Lemon-Lime Kool-Aid

2 cups of pineapple juice

2 tablespoons of lemonade concentrate

1 cup of Sprite or ginger ale

Ice

2 cups of Smirnoff 80 Proof Vodka

Red sanding sugar (optional)

Lime wedges for decoration (optional)
Recipe
Once you have all the ingredients ready to go, it's time to start making your very own Grinch Punch. Here's what you need to do:
Combine your Kool-Aid packet and the equivalent water content in a large container.

Then, mix the ice, soda, pineapple juice, vodka, ginger ale, or sprite in a separate bowl, and add your dissolved Kool-Aid until everything is equally incorporated.

Next, you'll want to decorate your glasses with a rim of red sanding sugar.

Once you're happy with that, it's time to pour in your punch mixture and add more ice if needed.

Finally, garnish your glasses with a lime wedge to complete your drink.
Simple, straightforward, and absolutely no fuss. This easy drink is just what you need to be the talk of the town.
#2 Hunch Punch
Now, if you want to embody the tropical vibe and summer feel all year round, you can try out this fun hunch punch recipe.
It's a refreshing beverage that's great for barbecues, cookouts, and all-out parties. So, whether you're having guests over for a small get-together or a much-needed self-care night, this is the best drink to get you in good spirits.
Ingredients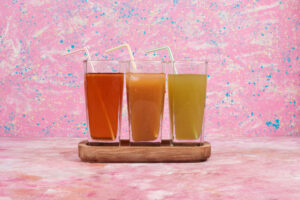 To make this mouthwatering drink, you'll first need to gather your ingredients. These include:
2 bottles of

 

Everclear alcohol

1 bottle of

Smirnoff watermelon vodka

80-proof

Smirnoff vodka
1 bottle of champagne

4 gallons of Hawaiian punch

Sprite

Orange juice

Lemonade

Tropical fruits
Recipe
Think beach vacation, sunning by the shores, or fresh sea breeze. That's what this drink is all about. And the best part is: it's not complicated in the least.
To make this beverage, you must combine all your liquids into a large container. Mix them all together until completely incorporated. Then, add your chopped tropical fruits. While you have the option to buy canned fruits, you may want to consider opting for more fresh produce. These will help you mellow down the sweetness and achieve a more natural flavor.
After letting the fruits soak for about 30 to 45 minutes, you have the option to remove them or not. Next, add a lot of ice! This is what will take the freshness of this drink to a whole new level.
When everything is combined, pour the drinks into individual glasses. This is when the party starts!
#3 Jamaican Rum Punch Recipe
Another tropical favorite is Jamaican Rum Punch. It's made with three kinds of rum, pineapple juice, grenadine, orange juice, and fresh lime juice. Among these ingredients, fresh lime juice is what you need to achieve a unique flavor, and a high-quality rum is what will add more complexity and texture to your drink.
Ingredients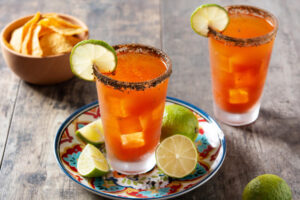 This Jamaican Rum Punch recipe takes only 10 minutes to prepare and it can serve up to eight people (or eight rounds if you're making it for yourself). All you need is:
Fruit juice (lime juice, pineapple juice, and orange juice)

Calypso Gold Rum 151 Proof

Dark rum

Coconut rum

Grenadine

Fresh fruits (orange, limes, lemons)
Recipe
Now that you have all the ingredients prepared, the next step is to make the rum. The process of doing so couldn't be easier. Simply mix all the liquids in a large punch bowl and carefully sprinkle the fruit slices.
You can then sip your concoction to see if it fits your liking. If you find that it needs a little adjustment, you can add more of the specific ingredient it's missing. If you're happy with your drink, refrigerate your bowl and serve it whenever you like.
Enjoy Great Punches This Year
These are just three of the most popular punch recipes you can try, but you're more than welcome to explore other flavors like a milk punch recipe or something completely different.
Everything ultimately depends on your personal preference, so don't be afraid to try new things. Check out Zipps liquor and get your fridge stocked with your favorite liquors for any party. We carry everything you need to prepare your own beverages.