If you're searching for beer from Texas, you don't have to travel far. The state has 84 counties that have licensed breweries, and it ranks 8th in the country for the number of craft breweries. Of course, the best option is to shop for your favorite beer from your nearest liquor store in Texas. Whether you're interested in stout, pilsner, IPA, lager, or hefeweizen, Texas has every style and sub-category of beer under the sun. Sampling every Texas beer is a challenging task, but you can begin your taste test by trying these delicious selections that represent some of the most popular beers in the Lonestar state.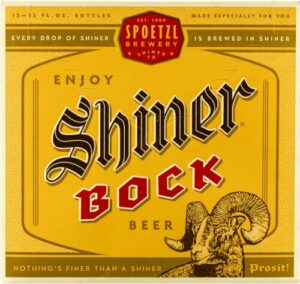 Shiner Bock
In the little town of Shiner, Texas, the Spoetzl Brewery began brewing beer in 1909, and their award-winning Shiner Bock has been turning heads since 1913. Shiner Bock is brewed with roasted barley and German hops to produce a rich, full-flavored dark lager. It goes down smooth and has a nutty sweetness without the bitter aftertaste associated with other dark lagers. Shiner Bock was originally a seasonal beer, but after its popularity soared, the brewery made it available all year starting in 1973. Since its introduction, it's won several awards, but its most recent win was the gold medal at the European Beer Star Awards.
Lone Star Original
Some states claim to have a state beer, but Texas made it official by naming Lone Star the national beer of Texas. Lone Star sources its grains from the Northern Plains and Central regions of the state and uses corn extract and premium hops to produce its tasty signature lager. The Lone Star brewery opened in 1884 and was started by a group of San Antonio businessmen and Adolphus Busch from Anheuser-Busch. You can also try the Lone Star Light, Lone Star Seltzer, Lone Star Das Bier, and Lone Star 24/7.
Velvet Hammer
Created by the Peticolas Brewery in Dallas, Velvet Hammer has been a Texas favorite since its introduction in 2011. The stunning imperial red ale combines caramel and light brown sugar notes with floral hops and a unique malt to produce a satisfying brew with an alcoholic bite. The beer gets its name from the velvety smooth taste that hits you like a hammer. With 9% alcohol, the Velvet Hammer is not a lightweight beer.
Saint Arnold Pub Crawl
To honor the pub crawl tradition they started in 1995, the Saint Arnold Brewery created the Saint Arnold Pub Crawl. It's a seasonal pale ale made with Centennial hops at the beginning of the brewing process to create bitterness and finished with Galaxy and Amarillo hops to develop its signature aroma. Maris Otter English Pale and Two Row Pale malts add a slight sweetness to the beer, and Golden naked oats malt gives the brew a nutty flavor. Whether you're involved in a pub crawl across Houston or simply enjoying a drink at home, a Saint Arnold Pub Crawl is a tasty beer for any occasion.
Electric Jellyfish
If you like beers with a hoppy flavor, you'll love the Electric Jellyfish from Pinthouse Brewing. It's a hazy IPA that sources its hops from Galaxy, Citra, Simcoe, Chinook, Ekuanot, and Azacca. The bright citrus flavor is influenced by light notes of lychee, orange, and mango. The Electric Jellyfish has garnered several awards since its release, including Austin's Best Overall Beer in 2016, 2017, 2018, 2019, and 2020. When you're hosting a large event or drinking with friends, the Electric Jellyfish is a bona fide crowd-pleaser.
Han's Pils
Using water from the Blanco River, The Real Ale Brewing Company makes exceptional beer with premium ingredients. The brewery's Han's Pils is a hoppy German-style pilsner dedicated to the owner Shorthair Pointer Hans. The beer was inspired by the brewing traditions of Northern Germany, and its full flavor taste with the perfect level of bitterness has made it famous across the state. The Han's Pils was a silver medal winner in the German-style Pilsner category at the Great American Beer Festival in 2012.
Concha La Flor
Although the Islla St. Brewing has only been operating since 2019, its Concha La Flor has made quite an impression in the Lonestar state. The unconventional Mexican breakfast stout honors the South Texas Mexican culture and uses a unique coffee blend from Longroad Coffee with hints of vanilla to create a memorable stout. During its first release, anxious beer drinkers waited for hours outside of Islla to sample the beer. It's a seasonal beer, and you have to act fast to grab a few bottles after the new batch is announced.
Peacemaker
As the first beer brewed by Austin Beerworks, The Peacemaker made its mark on the Texas craft brewing scene with its bold flavor. It uses Centennial, East Kent Golding, and Newport hops to create an unforgettable American ale. In 2011, it grabbed the silver medal at the Great American Beer Festival. At Austin Beerworks, they do not rely on subcontractors to handle their distribution, and they deliver every can of Peacemaker to local bars, restaurants, and liquor stores.
Atrial Rubicite
If you're searching for an unusual beer that's ranked as one of the top ten wild ales in the world, you can try the Atrial Rubicite from Jester King Brewery. Unlike other popular beers from Texas, the Atrial Rubicite is aged in barrels for a year and then re-fermented with fresh raspberries. It uses only Texas malt and has notes of juniper, white pepper, and of course, raspberries. During its initial release, the Atrial Rubicite sold out in 15 minutes. Although its availability is limited, grabbing a few 750ml bottles is worth the year-long wait.
Blonde Bombshell
Since 2008, the Southern Star Brewing Company has been producing world-class beer in Conroe, Texas. The brewer's most popular brew, Blonde Bombshell, is made from Wyermann Vienna and Rahr Special Pale malts. The ale's light, the hoppy flavor comes from Saphir and Sterling hops, and its smooth finish is attributed to the cooler fermentation temperature. Southern Star only brews its beer in cans to protect them from sunlight and preserve the flavors.
Visit Zipps Liquor Store for Texas Beer
When you're looking for a wide selection of popular Texas beer, wine, and spirits, you can count on Zipps Liquor Store. With a vast inventory and competitive prices, Zipps is your one-stop source for alcoholic beverages. Contact us to place an order or stop by one of our many locations that serve rural communities.