Texas is well-known for its delicious food, stunning landscape, and friendly people. But Texas also has a thriving beer scene! There are many great Texas blonde beer brands that you should try.
If you're looking for a crafted beer with a beautiful flavor and light taste, try a blonde beer. It's called that because of its color, a hue that ranges from pale yellow to orange. Blonde beer has a foam that's snow white and makes a good, thick head. It also has an aroma that's both malty and fruity with a slightly sweet taste and a carbonated feel. These beers always go down smooth. If you're looking for some great Texas blonde beers, we've got a list of ten of the best along with the breweries that created them. Let's have a look at the top 10 Texas blonde beers.
Looking for a great blonde beer to buy? Check out Zipps Liquor! We have a great selection of blondes to choose from, and the prices are unbeatable. So whether you're looking for a refreshing summer beer or a nice cold one to enjoy on a winter day, be sure to stop by a liquor store and pick up some Texas blonde beer. You won't be disappointed!
The Best Blonde Beers in Texas
Blonde beer is a refreshing and flavorful beer perfect for any occasion. Blonde beers are brewed with pale malt and contain moderate to low bitterness. Most blonde beers are highly carbonated and have a light body, making them perfect for summer days or anytime you want a refreshing beer. From North Texas all the way south to Austin, these are some of the most popular blonde beers you'll find in the Lone Star State.

 1. Electric Jellyfish
Pinthouse Brewing offers ingredients of the highest quality to make its award-winning brews. Electric Jellyfish IPA was voted Austin's Best Overall Beer for five years in a row. Electric Jellyfish is a bright golden beer with a slim head. It has a tangerine smell, but its taste has a strong hint of pineapple and guava along with floral hops. The beer isn't overly sweet and has a moderate bitterness. It has a smooth body that isn't too heavy.
2. Pantera Golden Ale
The Texas Ale Project has been around since 2014 and is family owned and operated. Pantera Golden Ale is golden-yellow in color with a light haze. The beer has a finger head of white foam and a light grapefruit aroma mingled with a hint of hay. The taste is a mixture of lemon and caramel along with a pleasant malty flavor, and the beer has a medium feel with moderate carbonation.
3. Springdale White Ale
Friends and Allies Brewing is located in Austin and offers the much-loved Springdale White Ale. This is a golden beer with a huge white head. It has the smell of wheat and coriander. The taste is fruity with a hint of peach, cherry, and mango. The beer has a medium feel to it with light carbonation. A little sweet, and easy drinking.
4. Blonde Bombshell
The Southern Star Brewing Company can boast of being the first brewery in Texas. Located in Conroe, the brewery offers the ever-popular Blonde Bombshell Beer. It's an American blonde ale that's brewed in cans to protect it from harmful sunlight that can make beer bitter. It's made with Pale and Vienna malts for a light flavor and a smooth, creamy body. The beer is also fermented at a cool temperature for a clean finish.
5. Dirty Blonde Beer
Located in Irving, the Twin Peaks Brewing Company has won numerous awards including the World Brew Cup. Twin Peaks' Dirty Blonde Beer is a darker gold-colored beer with a two-finger head of white foam. It has an aroma of clove and coriander with a hint of breadiness to it. Expect a crisp flavor of cracker malt with a hint of orange and apricot along with a light feel.
6. Shiner White Wing
The company's motto is that every drop of the beer brewed at the Spoetzl Brewery is brewed in Shiner. It's also delicious, including the Shiner White Wing beer. It's honey gold and slightly orange with a white head that's about one finger in depth. After a few minutes, the head goes down to a thick foam. The beer has a wonderful aroma of pear and coriander along with the taste of hop and malt.
7. Rahr's Blonde Helles Lager
Crafted by Rahr and Sons Brewing Company in Fort Worth, Rahr's Blonde Helles Lager is straw-yellow in color. The award-winning brewery is known for its delicious beers, and the Blonde Helles Lager is no exception. The beer has a caramel smell with floral notes along with a hint of citrus. It has a balanced taste that's not overly sweet and easy to drink.
8. Dallas Blonde Beer
The Deep Ellum Brewing Company is located in Dallas and provides beer that's always delicious. One of the brewery's most popular offerings is the Dallas Blonde Beer. It's a brilliant yellow ale crafted from Pale, Vienna, and Wheat malts with a citrusy and floral flavor to it that's light and crisp.
9. Blood and Honey
With two breweries, one in Arlington and the other in the small town of Granbury, Revolver Brewing Company offers world-class beer, including the ever-popular Blood and Honey. This beer is yellow-orange with a fizzy head that disappears quickly. It has a spicy smell that's a little bready. It's a sweet beer with a strong, honey flavor.
10. Texas Blonde Beer
The Wild Acre Brewing Company hails from Fort Worth and celebrates Hell's Half Acre, a piece of land known among renegade travelers from the past as a place for debauchery and revelry. The company also produces high-quality American craft beer, including Texas Blonde Beer. This brew is a lovely golden color with a thick head. It has a sweet aroma with a hint of grapefruit. Not overpowering, the taste is lightly hopped with a low bitterness.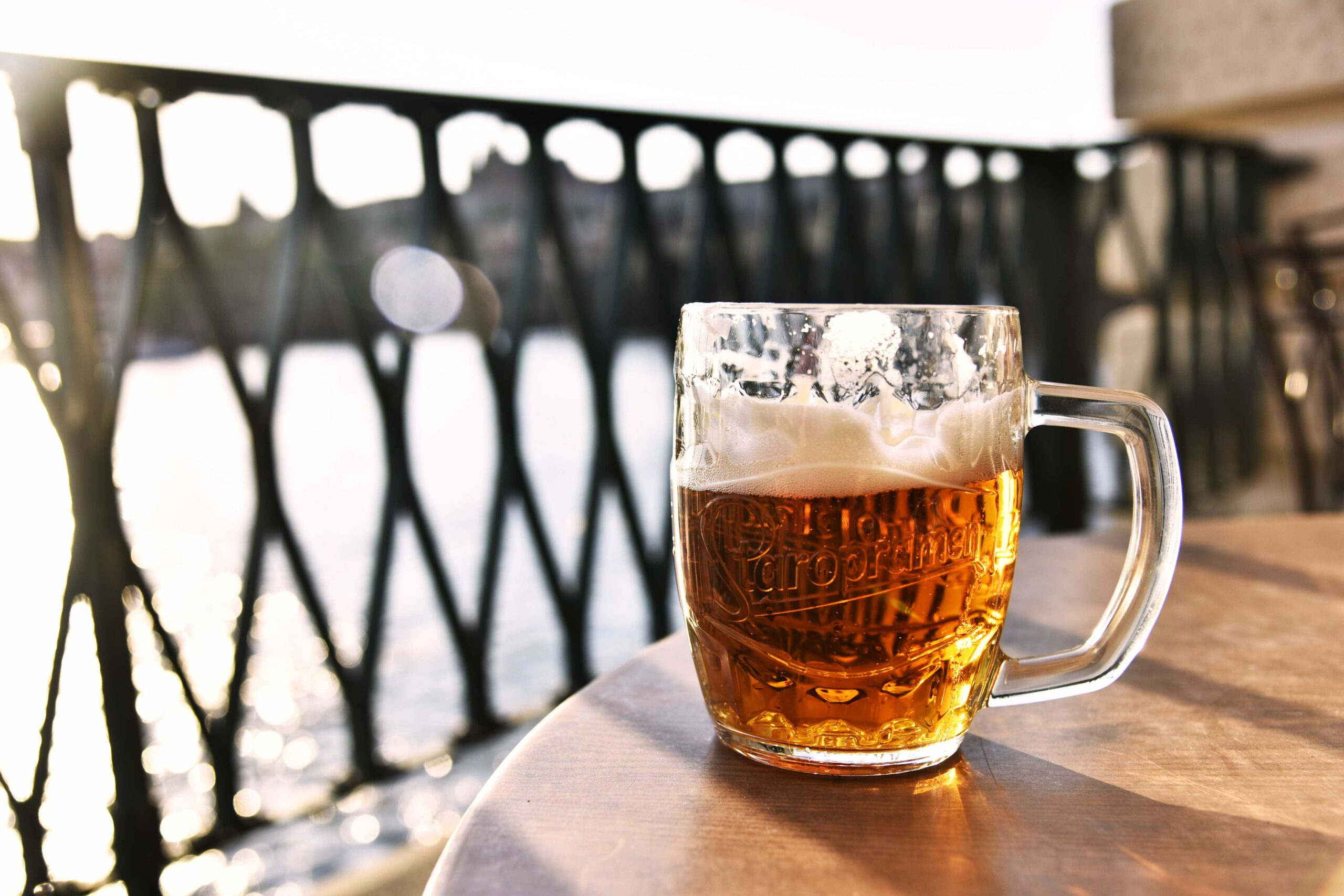 Enjoy a Blonde Beer
Don't store these craft beers in the refrigerator for more than a few weeks. They're best when you drink them right away. Also, don't drink beer when it's too cold. If you take a can out of the refrigerator, let it sit on the counter for about ten minutes before you open it. Pour the beer into a clean glass at a 45-degree angle. When the glass is half-full, slowly level it so that you get a head of foam. Enjoy a blonde beer with fish or bruschetta along with fruit or a salad.
If you're looking for a refreshing way to enjoy your next barbeque, why not try a blonde beer? Blonde beers are perfect for summertime sipping, and they pair well with grilled meats and veggies. Plus, they look beautiful when served in clear glassware. So next time you fire up the grill, make sure to include some blonde beer on your menu!
While Texas is known for famous landmarks like the Alamo, the state has also developed a reputation for some of the finest crafted beers around. People travel miles to sample the famous blonde beers in Texas for a reason. They're the best out there.
Buy a Blonde Beer for Home
Looking to buy a blonde beer from a liquor store near you? Use our liquor store locator to find the nearest option. Simply activate your location or enter your address and we'll show you the closest liquor stores in Texas.
Whether you're looking for an easy way to buy beer for a party or just want to enjoy a cold one at home, buying a blonde beer from a local liquor store is a great option. Cheers!
Looking for a way to enjoy a cold blonde beer without having to leave your house? Luckily, many liquor stores in Texas now offer delivery options. So whether you're looking for a quick drive-thru purchase or want to have your beer delivered right to your doorstep, there's an option for you.