Ever wondered who the number one fans of margaritas are? No other than Texans!
The classic margarita is one of the most common and favorite cocktails of all time. It's a simple and balanced concoction with only three ingredients — Tequila, Triple Sec, and lime.
Now, you might ask, what exactly is a Texas margarita? A Margarita Texas-style features fresh orange juice that goes well with tequila and lime juice.
There's no established history of the Texas-style margarita. However, the brilliant addition of orange juice makes the traditional margarita more balanced and refreshing, making it one of the best summer or late-night drinks.
The Texas Margarita Ingredients
If you want to have a refreshing Texas margarita, you'll need fresh and quality ingredients. This way, you'll achieve just the right touch of sweetness that complements the lime juice and tequila.
Enjoy bright flavors with the following ingredients, which every cocktail lover is likely to already have at home.
Tequila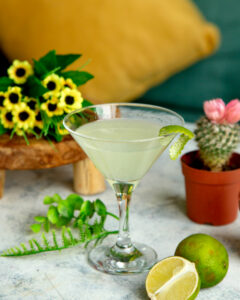 Tequila is the main ingredient in margaritas. There are mainly three types of Tequila: reposado, blanco, and añejo.
While you can use any type of tequila for your Texas margarita, we recommend you pick a premium quality one to delight your guests.
Orange Liqueur
Like tequila, the orange liqueur is available in different types and styles too. You can have Triple Sec, Cointreau, Orange Curacao, or Grand Marnier. You get that added sweetness with orange liqueur, which also elevates the orange juice.
Fresh Lime Juice
Using bottled juice might be a quick and easy option. However, it might just ruin the flavor of your anticipated drink because of added sweeteners.
Use fresh lime juice instead to get a little bit of a tang perfect for your tastebuds.
Fresh Orange Juice
Like lime juice, orange juice should be freshly squeezed if you want to make the best Texas margarita. You can also use bottled juice, but make sure it's pure juice and doesn't have added sweeteners.
Margarita Salt
You can easily buy this one at stores, but if you have extra time, consider making it home. It's quick and simple.

Simply combine coarse salt (like sea salt or kosher salt) and some lime zest. Crush them together using a rolling pin and that's it!
Agave Nectar
This comes from the agave plant that also undergoes distillation to create tequila. By boiling it down into a syrup, agave nectar is used as a sweetener.
The Texas Margarita Recipe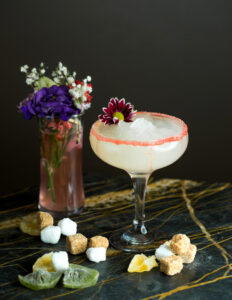 Wondering how to make a texas margarita? You'll enjoy your satisfying Texas margarita with a few mixes and shakes of quality ingredients. Here's an easy-to-follow Texas margarita recipe for you.
First, get your glass a salted rim. Although you can choose not to do the salted rim, you might as well complete your Texas margarita experience. You can wet the rim with lime wedges or simply dip it in fresh lime juice. After turning your glass upside down, dip it in a plate full of margarita salt. Do the same for your friends' glasses.
Then, it's time to add the ingredients to a cocktail shaker: tequila, lime juice, orange juice, orange liqueur, and agave. The ice shaker should have enough ice cubes.
Once you've covered the ice shaker with its lid, shake well for around 15 to 30 seconds. If you're making a margarita for a few people, we recommend mixing them one by one.
After combining the ingredients, you'll need to strain the cocktail. Then, garnish with an orange slice or lime wheel. Just like that — you can now enjoy Texas' most popular cocktail.
The Texas Margarita vs the Classic Margarita
What makes a Texas margarita different from the traditional margarita is the addition of fresh orange juice.
This gives a juicy and citrusy touch, making the drink lighter and more refreshing than the classic margarita.
The classic margarita only relies on lime juice to counter the orange liqueur and tequila. Thus, it's a little bit heavier and acidic.
Try The Texas Margarita!
A margarita alone is a perfect cocktail that combines salt, sweet, bitter, and sour flavors.
However, a Texas-style margarita adds a creative twist to this well-loved cocktail by introducing freshly squeezed orange juice. The result is a more balanced cocktail that Texans can't resist!
Shop for ingredients online at Zipps Liquor and get everything delivered to your door! You can also choose in-store pick-up or visit your nearest liquor store in Texas.