For our Wine Wednesday this week, we are going to take a look at some regions where wine is grown. The wine world is divided in to two main parts: Old World and New World.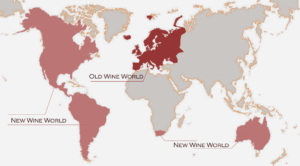 New World wine is wine that comes from anywhere not in Europe, so either Americas, Australia, New Zealand and South Africa. All types of new and fun wines are grown throughout the New World which has lead to its popularity among drinkers everywhere! Some of the more famous regions are Napa Valley in California, the Mendoza region in Argentina, Stellenbosch in South Africa and Barossa Valley in Australia. These are the flagship regions in those respective countries but there are countless other appellations within even just the USA that have gained worldwide fame and followings like the Willamette Valley in Oregon and Marlborough in New Zealand which make some of the most lauded Pinot Noir and Sauvignon Blanc in the world, respectively.
Learning about wine starts with knowing where the wine comes from and how its terroir affects the taste profile of the wine. Each regions carries its own mark on their wines and creates unique experiences with each bottle. Try as much as you can from all the places you can to truly experience all the fun wine has to offer!
Find a liquor store near me to shop the ingredients