Christmas is in the air! From abundantly decorated pine trees to bright lights and cheerful Santa Clauses, Christmas can be felt everywhere. However, nothing brings the holiday spirit better than time spent with family and friends, accompanied by a flavorful and refreshing Christmas champagne cocktail.
If you're still thinking about what concoction to serve your loved ones, consider these 3 cocktail recipes. Any of these drinks is sure to make your holiday gatherings more fun and memorable.
Mulled Fizz
Classy and refined are the best descriptions for this cocktail. A mixture of Luc Belaire Rare Luxe, Captain Morgan's Spiced Rum, and other complementary ingredients lead to the creation of Mulled Fizz.

The luxurious and chromatic tint, coupled with the exquisite flavor that the Luc Belaire Rare Luxe adds to the mix, makes this a great Christmas champagne cocktail, especially for the more mature cliques.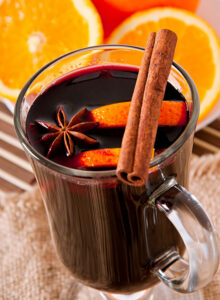 Ingredients
40 ml of Luc Belaire Rare Luxe
35 ml of Captain Morgan's Spiced Rum
15 ml of port wine

20 ml of clementine juice (preferably freshly squeezed)

1 slice or piece of orange peel (used as garnish)

Edible gold leaf (optional for garnish)

2 pieces of aromatic cloves

1 vanilla pod, split

Half a nutmeg (grated and to be used for the syrup)

1 cinnamon stick (also for the syrup)

50 grams of caster sugar

50 ml of water (to be mixed with the sugar)
Steps
You'll have to first make the syrup. Mix the caster sugar and the 50 milliliters of water. Then, add the cloves, nutmeg, cinnamon stick, and split vanilla pod. Apply heat to the mixture and gently stir. Let it brew for around four minutes. Then, turn off the heat, and let it cool off for about 10 minutes. Once it cools down, strain the spiced syrup into a container or jar. Strain twice to ensure that no bits or other residue remain.
Next, get a shaker. Fill it with ice, and then add the rum, port wine, clementine juice extract, and 30 milliliters of the freshly made spiced syrup. Close the shaker and give it a good shake. Around 15 seconds should do the trick.
Pour the shaker's contents into a chilled flute together with the Luc Belaire Rare Luxe. Stir the concoction gently with a long spoon. Then, grab the orange peel and squeeze its extract onto the drink. You can use an edible gold leaf or just a strip of orange peel for garnish.
There you have it — your champagne cocktail for Christmas in Texas is ready to serve!
Christmas Morning Mimosa
Christmas and the color red go well together. Just ask Santa. Now, if you're looking for a red and exciting Christmas champagne cocktail, then search no further — the Christmas Morning Mimosa is the answer. This playful and delicious cocktail is perfect for more casual occasions. It's most likely to be popular with younger folks or even the young at heart.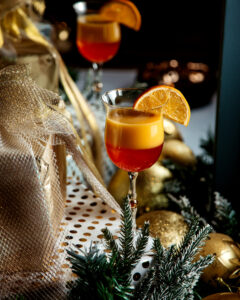 Ingredients
1 750 ml bottle of Moët & Chandon Impérial Brut Champagne

¾ cup of cranberry blood orange (you can use pomegranate juice as an alternative)

4 ounces of cranberries (preferably fresh)

1 ½ cups of sugar (granulated)

⅓ cup of water

Rosemary springs (for garnish)
Steps
You'll have to make the sugared cranberries first, which will serve as garnish. Heat up the water and a cup of sugar in a saucepan. Stir until the sugar disappears into the water. Let the mixture boil for around three minutes before turning off the heat. Then, let it cool until it's tolerable to the touch. Put the cranberries in a bowl and pour the solution over them. Remove the chunks in the syrup and roll each in sugar.
Now that the garnish is done, get a champagne flute. Pour around one ounce of cranberry blood orange into it. Then, fill the rest of the flute with Moët & Chandon Impérial Brut Champagne. Garnish the top with both the rosemary and the sugared cranberries. Voilà! You can now enjoy your Christmas Morning Mimosa.
Cranberry Champagne Cocktail
If you want an elegant Christmas cocktail that requires little effort, try the Cranberry Champagne Cocktail. There are no bells and whistles with this one. This cocktail is as simple to make as its name suggests. However, the finished product is an exquisite cocktail with a delicious flavor. This drink is also timeless enough that it's sure to satisfy the palate of most, if not all, cocktail lovers.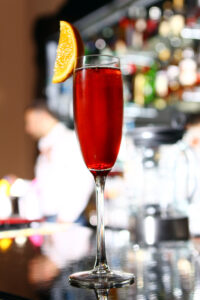 Ingredients
1 bottle of Luc Belaire Bleu

1 ounce of sweetened cranberry juice

A couple of frozen cranberries

1 wedge lime
Steps
First, get a champagne flute. Pour the ounce of cranberry juice and squeeze the lime extract on top of it. Fill the rest of the glass with Luc Belaire Bleu. Finally, add three or four cranberries on top as garnish. It only takes five minutes or less to create this awesome champagne cocktail. No need to put your other Christmas errands on the back burner!
Do Christmas In Style This Year!
There are plenty of Christmas champagne drinks out there, with the three cocktail recipes above being a few of our favorite options. You can even experiment and invent your own mixture according to your taste and preferences.
However, if tested and authentic is what you're after, then you can bet on Rudolf's nose that the Mulled Fizz, Christmas Morning Mimosa, and Cranberry Champagne Cocktail will make anyone's Christmas merrier and classier. Check out Zipps Liquor for more Christmas champagne drinks and other varieties that can make the holidays more special.