From the ever-popular Michelob Ultra Beer to the classically satisfying Michelob Light Beer, this household name has cultivated a broad spectrum of brews that cater to a myriad of tastes. Today, we'll break down the details, flavors, and variations of Michelob beers to provide a nuanced perspective on what makes these beverages stand out. Grab your favorite pint glass and let's get started!
A Brief History of Michelob Beer 📜
Founded in 1896 as a "draught beer for connoisseurs," Michelob has an illustrious history that spans over a century. Originating as a subsidiary of Anheuser-Busch, it aimed to provide a superior quality beer that distinguished itself from the competition. The brand has succeeded in doing precisely that, evolving over the years to introduce various types of Michelob beers that cater to a wide range of preferences.
Key Milestones
1896 – The Beginning: Michelob was introduced as a draught-only beer, targeted at upscale clientele.
1961 – Going Bottled: The brand extended its reach by introducing bottled beer, making it accessible to a broader audience.
For more insights into the history of Michelob, we recommend visiting the official Michelob website.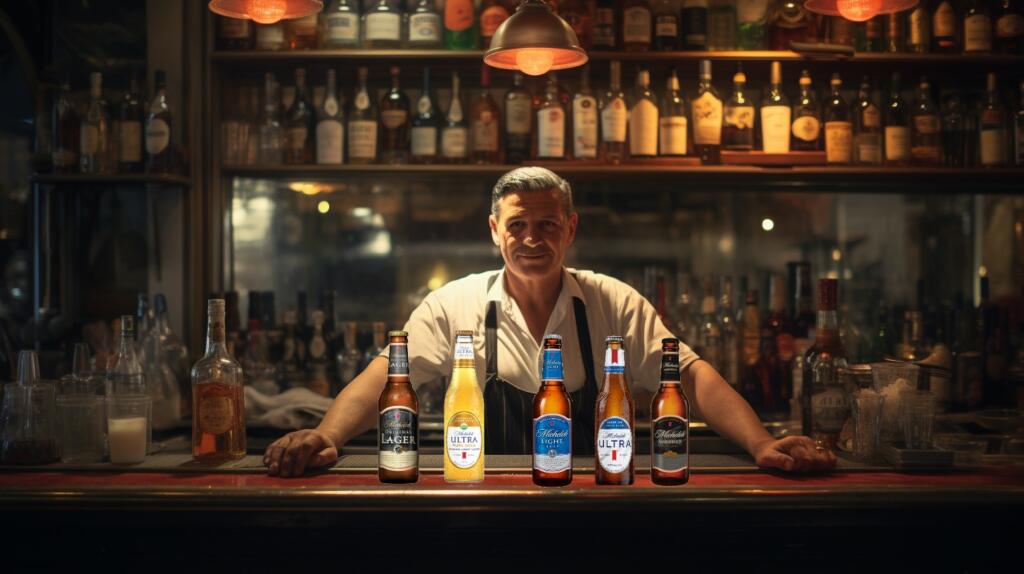 The Range of Michelob Beers 🍺
When it comes to variety, Michelob has an offering for virtually every palate. From the calorie-conscious Michelob Ultra Beer to the full-bodied original Michelob, diversity is the name of the game. Over the years, this brand has expanded its portfolio to include a range of options, such as lagers, ales, and specialty brews, thereby ensuring that every beer lover finds something to relish.
The Standouts
Michelob Ultra Beer
Renowned for its low-calorie profile, Michelob Ultra Beer has become a favorite among fitness enthusiasts. It offers a crisp, clean taste without compromising on flavor.
Michelob Light Beer
For those who prefer a lighter beer without sacrificing taste, Michelob Light Beer fits the bill. It's the lighter sibling of the classic Michelob and features a malty flavor profile.
Michelob AmberBock
For a richer experience, the AmberBock offers dark, malty flavors combined with a smooth finish, perfect for those who seek a more robust beer.
The Flavor Profiles
Light and Easy-Drinking: Michelob Ultra Beer
Michelob Ultra Beer stands out for its low calories—only 95 per 12-ounce serving. But it's not just about the calories; this beer offers a clean, crisp taste with subtle fruity notes. It is light-bodied and perfect for sipping on a hot day or after a workout. This brew skilfully balances taste and health-conscious considerations, a rare feat in the world of beers.
The Classic: Michelob
The original Michelob is where it all began. It's a well-balanced lager that offers a malty sweetness coupled with a touch of bitterness from noble hops. It's a versatile beer, suitable for a range of occasions, and a safe bet for those who prefer a traditional brew.
Where to Buy Michelob Beers 📍
Online Shopping
Why step out when you can have your favorite Michelob beers delivered to your doorstep? Many online platforms offer a broad range of Michelob options. It's as simple as a click, and your beer is on its way!
Local Stores
If you prefer the traditional way, Michelob beers are widely available at your nearby liquor store. And for our Texan friends, look no further than Zipps Liquor.
Shop At Zipps Liquor 🛒
So there you have it—a complete review of Michelob beers that covers everything from history and variety to flavors and buying options. Michelob has something for everyone, whether you're seeking a light, refreshing beverage or a richer, fuller-bodied experience. The brand's consistent quality, range of offerings, and adherence to brewing traditions make it a standout choice for beer enthusiasts of all kinds.
In the mood for some Michelob? Head over to Zipps Liquor to grab your favorite beers. Awarded the Retailer Of The Year in Texas by ABL, we offer a comprehensive range of international and local brands at unbeatable prices. Choose between pickup and delivery when you shop online, or visit one of our large stores in Texas to find a plethora of beer, wine, spirits, and mixers. Cheers to great choices and even better prices! 🍻