In this comprehensive Pendleton whiskey review, the focus is on unraveling the intricate allure of this quintessentially Western spirit. Whether exploring options for the next whiskey purchase or seeking to understand what sets Pendleton apart, this feature aims to cover it all. From its rich heritage to its varied flavor profiles, Pendleton whiskey consistently intrigues both connoisseurs and casual drinkers. The article provides an in-depth look at the brand's story, its product offerings, and why it holds a special place in the world of whiskies. 🥃
If you find yourself inspired to try Pendleton whiskey or add another bottle to your collection, we highly recommend shopping at Zipps Liquor. As the Retailer Of The Year in Texas by ABL, Zipps Liquor offers a broad array of international and local brands at exceptional prices. Choose the convenience of shopping online with options for pickup and delivery, or visit a nearby Zipps Liquor store in Texas for a firsthand look at their extensive selection of beer, wine, spirits, and mixers.
The Story Behind Pendleton Whiskey
Pendleton whiskey was introduced in 2003 by Hood River Distillers, located in Hood River, Oregon. This whiskey aims to capture the rugged essence of the American West. The brand pays homage to the Pendleton Round-Up, one of the oldest and most prestigious rodeos in the United States. Held annually since 1910, the Pendleton Round-Up showcases the cultural heritage and brave spirit of the cowboys and cowgirls of the Pacific Northwest.
The Essence of Rodeo Culture
What sets Pendleton apart is its genuine reverence for rodeo culture. By utilizing premium ingredients and leveraging traditional methods, Pendleton whiskey showcases the spirit of self-reliance, adventurousness, and craftsmanship that rodeo culture embodies. From the eye-catching, western-themed bottle design to the intricate label detailing, every aspect of Pendleton whiskey speaks to its cultural roots.
The Bottle Design
The Pendleton whiskey bottle features rodeo imagery and motifs, inviting consumers to immerse themselves in the Old West. The distinctive bottle design also makes it a standout item on the shelf, a physical testament to its unique identity.
The Pendleton Round-Up
The brand's sponsorship of the Pendleton Round-Up is not just a marketing strategy; it's a collaborative cultural celebration. Through this partnership, Pendleton whiskey supports the continuing legacy of rodeo culture, cementing its position as a whiskey that's not just about taste, but about community and heritage as well.
Pendleton Whiskey Variants and Tasting Notes
The Original Pendleton Whiskey
The original Pendleton whiskey is a Canadian whiskey aged in American oak barrels. The whiskey is bottled in Hood River, Oregon, after being mellowed through Hood River's unique charcoal filtration process. The end result is a smooth and rich whiskey that pairs well with various mixers and is also excellent when consumed neat.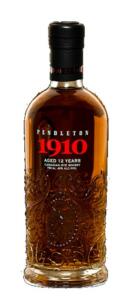 Pendleton 1910 Rye Whiskey
Pendleton 1910 is a 12-year-old Canadian rye whiskey that also enjoys an American oak aging process. This variant offers a robust flavor profile, with hints of tobacco and vanilla, underscored by a rye spiciness. Its complexity makes it an excellent choice for whiskey aficionados seeking something a bit more intense.
A Side-by-Side Comparison
Original Pendleton Whiskey: Soft, balanced, and approachable. Great for beginners and for mixing.
Pendleton 1910 Rye Whiskey: Complex, robust, and spicy. Ideal for seasoned whiskey drinkers and complex cocktails.
Food Pairings
Both variants are incredibly versatile when it comes to food pairings. The original Pendleton pairs wonderfully with classic American dishes like barbecued ribs or smoked brisket. The 1910 Rye, with its bold flavors, complements spicier foods such as Cajun chicken or even spicy Asian dishes.
Pendleton Whiskey in Cocktails
Whiskey-based cocktails are classics for a reason—they never fail to impress. But what sets Pendleton whiskey apart in the cocktail universe?
The Versatility Factor
The original Pendleton whiskey's smoothness makes it a perfect base for various cocktails. Whether it's the classic Old Fashioned, a Whiskey Sour, or something more adventurous, the whiskey's balance of flavors ensures that it complements rather than overwhelms other ingredients.
The Signature Mixes
Pendleton Whiskey's own website offers a range of cocktail recipes designed to showcase the best of what their whiskies can do in a mix. If you are a cocktail enthusiast looking to bring a Western twist to your creations, you are in for a treat. 🍹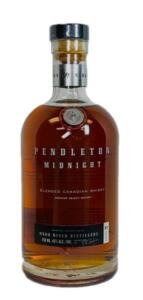 Pendleton Midnight
This cocktail incorporates Pendleton Midnight, a blend enriched with natural flavors that offer a sweet yet complex profile, perfect for a flavorful concoction.
The Pendleton Old Fashioned
Nothing screams 'classic' like an Old Fashioned. With Pendleton, the cocktail gains a unique flair, where the whiskey's unique notes shine while maintaining the integrity of the traditional recipe.
The Value Proposition: Affordability Meets Quality
The price range of Pendleton whiskey is quite competitive, especially when considering the quality offered. Most bottles fall within the $20-$40 range, making it an excellent choice for those who want quality without breaking the bank.
A Brand You Can Trust
Pendleton whiskey has garnered numerous accolades over the years. From scoring high in various tasting competitions to customer reviews lauding its affordability and smoothness, the brand's reputation precedes it.
Reviews and Ratings
According to Whisky Advocate, Pendleton whiskey received high marks for its balanced flavor profile. Several customer reviews on platforms like WhiskeyBon and Distillery Trail echo the same sentiment, praising the brand for its affordability and complex flavor palette.
Awards and Recognition
Pendleton whiskey has notched up several awards, including medals at the San Francisco World Spirits Competition, reinforcing the brand's claim of quality and authenticity. 
Conclusion: Raising a Glass to Pendleton Whiskey
Our Pendleton whiskey review reveals a brand deeply rooted in tradition and community. It stands out not only for its intriguing flavor profiles but also for its commitment to celebrating and preserving the rich cultural heritage of the American West. With its versatile range, there is a Pendleton whiskey for every palate and occasion.
Shop Your Next Bottle at Zipps Liquor
Are you inspired to bring a bottle of Pendleton whiskey into your life? We invite you to shop online or in-store at Zipps Liquor. As the Retailer Of The Year in Texas by ABL, Zipps Liquor prides itself on offering a wide range of international and local brands at unbeatable prices. Choose between pickup and delivery options online, or visit us at your nearby Zipps Liquor store in Texas. You'll find an extensive selection of beer, wine, spirits, and mixers. Cheers! 🥃